Should You Worry About Inflation?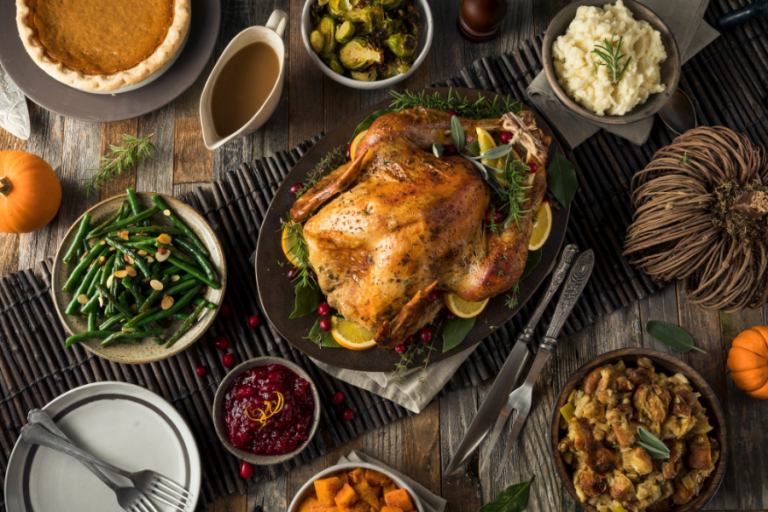 As we sit down to Thanksgiving dinner this week, you may be mindful of media reports that expect this year's feast to be the most expensive in the history of the holiday. According to the American Farm Bureau Federation, Thanksgiving dinner this year will cost about 14% more than last year – an average of $53.31 to feed 10 people. Thanksgiving dinner for less than $6 per person may not seem like a big deal. After all, according to a new study by COUNTRY Financial, in spite of the pandemic, Americans are feeling financially secure. At the same time, though, the study found that people are noticing price increases and are "very worried" about inflation.
If you're not sure what to think about inflation and its potential long-term impact on your life, you're not alone. Even the experts don't agree. But if you're concerned about how inflation could impact your investments, history shows stocks have been more likely to outpace inflation over long periods of time.
This chart from Dimensional Fund Advisors traces one-year returns on stocks since 1991. It shows a wide fluctuation and provides evidence that the weakest returns can occur when inflation is low. According to Dimensional, 23 of the past 30 years saw positive returns even after adjusting for the impact of inflation, including the first six months of 2021.
Depending on whom you ask, inflation is transitory … or not. And even though inflation can have benefits, it can also be concerning. When inflation spikes, uncertainty does as well. So, what if inflation does stay for a while? This is where prudent planning comes in.
Diversification Helps Bridge Uncertainty
It stands to reason that some investments seem to shine when inflation is on the rise. Others deliver their best results when inflation is low. Because we never know exactly when inflation might rise or fall, it makes sense to diversify into and across various investments that tend to respond differently under different economic conditions.
For example, until earlier this year, value stocks had been underperforming growth stocks for quite a while. You may have been tempted to give up on them during their decade-plus lull (during which inflation remained relatively low). And yet, when inflation is high or rising, value stocks have tended to outperform growth, as has been the case year-to-date.
Another example is Treasury Inflation-Protected Securities (TIPS) versus "regular" Treasury bonds. Neither is ideal across all conditions. But if you hold some of both, they can complement each other over time and across various inflationary rates.
In short, if you've not yet done so, it's time to define your financial goals and build your personalized, globally diversified portfolio to pursue them. If you've already completed these steps, you should be positioned as best you can to manage higher inflation over time, which means your best next step is most likely to stay put.
What If You're Retired?
The Dimensional Fund Advisors chart referenced earlier shows that over time, things even out. But what if you don't have that much time? What if you depend on your portfolio to provide income in retirement?
This is an area where your financial advisor can help. Your advisor can recommend a solid strategy for investing for, and spending in, retirement. For example:
Asset Location: Among your taxable and tax-favored accounts, where will you locate your stocks, bonds, and other assets for tax-efficiently accumulating and spending your wealth?
Spending: How much can you safely withdraw from your investment portfolio to supplement your other income sources (such as Social Security)?
Withdrawal Strategies: Which accounts will you tap first, and then next?
If it appears inflation is eroding too much of your nest egg, don't panic. Instead of abandoning your long-term strategy, work with your advisor to develop a "plan B." This helps to ensure that you're optimizing your expected returns and managing unnecessary risks with a cool head. Your advisor can help you determine when to implement your plan B and guide you through some of the decisions you may need to make at that point.
Let's face it. Life can be unpredictable. Over the course of your lifetime, you'll likely see recessions come and go, world events that send the markets tumbling, and something like the slow, steady creep of inflation that we've seen in the last year. Your advisor's goal is to bring both structure and clarity to your financial decisions during difficult times. This Thanksgiving, instead of worrying about the cost of turkey and all the trimmings, remember your financial goals and the progress you're making toward achieving them. From all of us at Savant, best wishes for a happy Thanksgiving and a blessed holiday season.
---
Savant Wealth Management ("Savant") is an SEC registered investment adviser headquartered in Rockford, Illinois. Past performance may not be indicative of future results. Different types of investments involve varying degrees of risk. The scope of the services to be provided depends upon the needs of the client and the terms of the engagement.