Assessing Your Cash Holdings Amid Recent Bank Failures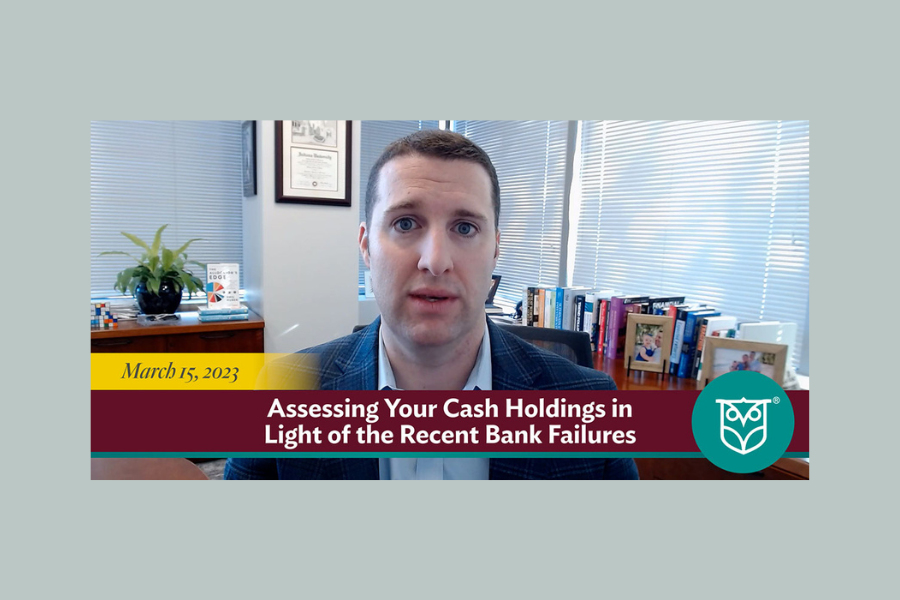 Savant Wealth Management's Chief Investment Officer, Phil Huber, discusses the recent bank failures of Silicon Valley Bank and Signature Bank, and provides some context around what consumers should consider when making choices about their liquid assets.
Transcript
Hello, everybody. My name is Phil Huber. I am the Chief Investment Officer for Savant Wealth Management. Thank you for joining us here today.
In periods of heightened volatility and uncertainty specific to the health of our financial institutions, investors rightfully require some assurance that their bank deposits are not at risk and that their safe money is indeed, safe. I don't need to remind anybody that 2022 was a pretty dismal year for stocks and bonds, as the Fed embarked on one of the more aggressive rate-hiking cycles that we've ever seen in an effort to slow down the economy and tame inflation. And while that's certainly hurt all of our portfolios, there was a silver lining outcome in that we can finally all earn a decent yield on our cash and short-term assets once again.
This was quite welcome after many, many years of historically low-interest rates. Now, this past week's events caused a little bit of stress amongst all of us when we saw the second and third largest bank failures in modern U.S. history between Silicon Valley Bank and Signature Bank. And this provided a stark reminder to us all about the difference between risk-free and low-risk.
Investors today have the benefit of having a variety of different options to manage their liquidity and their safety assets. These range from FDIC-insured cash to money market funds to CDs, Treasury bills, and even short-duration mutual funds and ETFs. Each of these different savings vehicles has pros and cons, and their appropriateness for any particular investor is going to ultimately depend on how much principal protection they need, what are their tax considerations, what are their liquidity needs, and ultimately what are the goals and objectives for that particular pool of money.
Now, we are very happy to see that authorities in the Treasury, the FDIC, and the Fed ultimately intervened over the weekend to act swiftly and aggressively to avoid the potential for a more widespread bank run, but that was not a guaranteed outcome. And I think before that announcement came, a lot of businesses and individuals with uninsured cash found themselves in a really stressful and tricky situation, trying to figure out how they were going to scramble to meet payroll for their employees or have some assurance around the insurance coverage of their cash.
Now, fortunately, today, there are some solutions that exist for individuals and institutions that allow investors to obtain more than the stated FDIC coverage per tax ID, without having to go through the hassle of opening several different bank accounts. This past week has highlighted the importance of safety above all else when it comes to our cash and other savings vehicles.
At Savant, we have solutions to assist our clients in maintaining the safety and security of their liquid funds. If you have not already discussed your high-balance deposits with your financial advisor, we suggest you do so without delay. Thanks, and have a great day.