Future-Proof Your Business in 2022 with Scenario Planning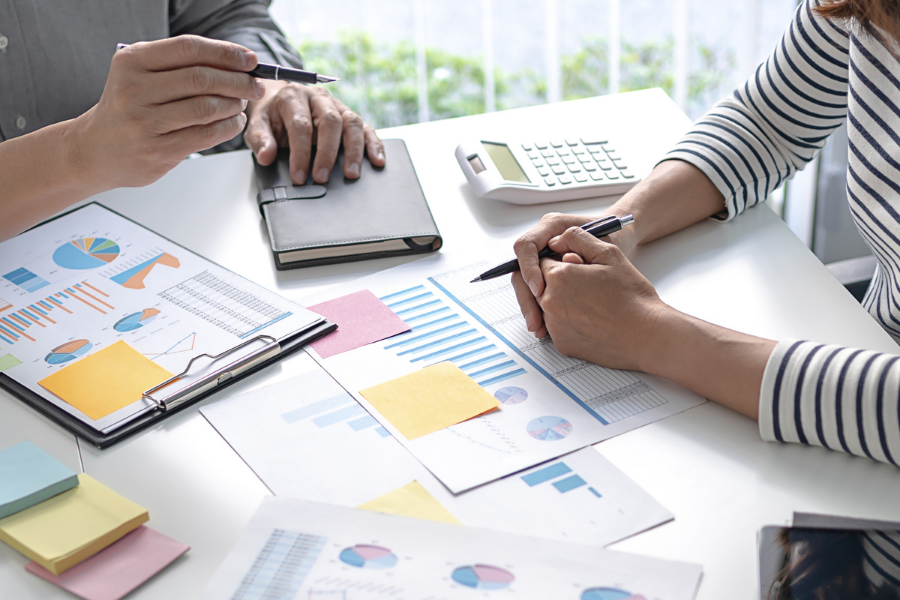 It's no secret that the COVID-19 pandemic has had a measurable negative impact on businesses of all sizes – from labor shortages to supply chain problems, lockdowns and more. While many larger, well-resourced companies have been able to pivot or adapt successfully, the pandemic has been especially hard on small businesses. A recent study by Statista found that as of October 2021, more than 66% of respondents claimed that the pandemic has had either a moderate or large negative effect on their small businesses. With 2022 upon us and the number of COVID variants continuing to grow, how can small businesses mitigate the potential for more negative effects in the coming year? Scenario planning, a way of visualizing different futures for your business, may hold some answers.
What is Scenario Planning?
Scenario planning originated in the military and rose to prominence after World War II, as the U.S. became concerned about nuclear warfare. A military strategist named Herman Kahn refined the idea to include planning for the uncertainty associated with nuclear proliferation among the world's biggest powers. An executive at Royal Dutch Shell later modified the military's approach for use in business, and scenario planning quickly gained popularity in the private sector in the early 1970s.
These days, many businesses use scenario planning to map out potential uncertainties they could face in the future. For some companies, the process is elaborate, but for other, smaller businesses, the approach is simpler. Experts point out that it's not necessary to shoot for absolute accuracy about what could happen. Instead, it's about imagining a range of plausible future situations, working backward to build stories of how those situations occur, and then working forward to identify strategies for dealing with the scenarios.
Creating Your Plan
It may seem a bit intimidating to try to identify all the potential scenarios that could affect your business. After all, who could have seen COVID-19 coming, along with all of its variants? Instead, start by looking at the key areas of your business that could be disrupted and the circumstances that could drive the disruptions. For example, if your company sells one or more products, what would happen if you could no longer access the parts you needed to manufacture them? Retail businesses might consider scenarios in which the product itself was unavailable. If your business provides a service, what if customers suddenly couldn't visit you in person? What if you couldn't get the employees you needed? What if regulations changed, or you experience a demographic shift in your customer base? As you examine all the relevant aspects of your business, make a list of these types of questions.
Next, begin to identify a range of scenarios related to your list of questions and rank them in terms of the potential impact they could have on your business. You may find that some of the situations you identified have less potential to cause long-term damage and may seem like less of a priority. From your list, focus on the two or three scenarios that seem most plausible and that could have the greatest impact.
Delve deeper into the two or three scenarios you choose and identify how well your business is equipped to handle those potential situations now. Could you adapt quickly and easily to a scenario with just a few process changes, or would the situation require a complete pivot?
Finally, create a contingency plan that addresses each of the major scenarios that could affect your business. This could require identifying a new source for the materials or products you need, anticipating a change in the regulation of your industry and developing a process to comply quickly, or determining a pool of talent and working to nurture that pool to strengthen your employee base.
Getting Help from a Trusted Advisor
If your business consists of just one or two people, you may be wondering if an exercise like this can provide value. An interpretive advisor — one who considers both your personal financial goals and your business goals — would say yes. That's because as an entrepreneur, your personal and business lives are directly linked, and what happens in your business can easily affect your personal plans for retirement, philanthropy, or creating an inheritance for your children. In short, you can't afford not to think about it. The good news is you don't have to be alone in the process.
Not every business has a board of directors or a list of consultants it can call to help with scenario planning. However, if you work with a financial advisor who understands your business and how it links to your personal life, you could start there. An advisor who is a CPA can create financial models that put best- and worst-case scenarios into perspective or audit your processes to realistically assess how different scenarios could interrupt or otherwise affect them. An advisor who specializes in working with businesses, or with your industry, can also expose you to best practices in other organizations as well as act as a trend spotter, pointing out the drivers that could lead to future scenarios.
The pandemic has taught us that anything can happen. Scenario planning can help you prepare for whatever comes next.
---
Savant Wealth Management ("Savant") is an SEC registered investment adviser headquartered in Rockford, Illinois. A copy of our current written disclosure Brochure discussing our advisory services and fees is available upon request or through this link. The scope of the services to be provided depends upon the needs of the client and the terms of the engagement.