Fed Interest Rate Increases Could Reduce Lump-Sum Pension Payments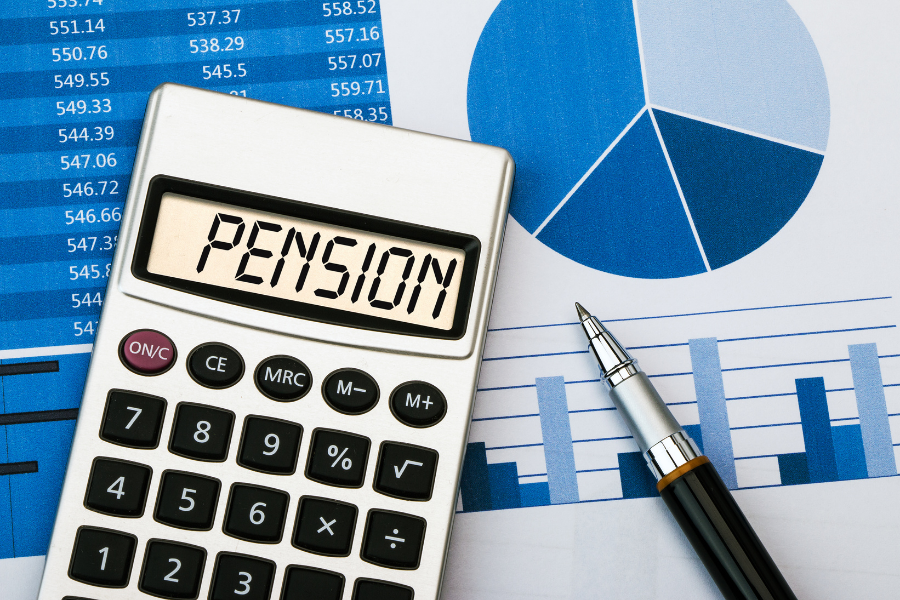 Throughout the first half of the 20th century, many workers received pension benefits from their employers. This "defined benefit" enabled employees to choose between receiving a lump-sum distribution or a lifetime annuity when they retired. With the creation of the 401(k) and 403(b), so-called "defined contribution" plans, many employers opted to move away from pensions, preferring to shift much of the cost, as well as the risk associated with defined benefit plans, to employees. Now, pensions are much less common, but still available to some who work in government or certain industries.
If you have a pension plan at your job and are considering retiring with a lump-sum distribution in the near future, the Federal Reserve's planned interest rate increases may make it worth your while to retire sooner. Some pension plans calculate lump-sum payments using government-mandated interest rates in effect for the calendar year in which you receive the lump sum. When those interest rates increase, the value of a pension's lump-sum distribution actually decreases. With the Fed planning a total of seven rate hikes this year, delaying your retirement could reduce your hard-earned pension payment significantly.
With interest rates so low in recent years, taking a lump sum has been an attractive option among retirees. If you hoped to take advantage of a large, one-time distribution from your pension at retirement, make sure you understand how your employer incorporates the interest rate calculation. One plan I'm familiar with determines its calculation in August for implementation on Jan. 1 of the following year. That means an employee considering retirement could do so now and receive a lump-sum based on a calculation made last August – when interest rates were lower.
Determining Which Option to Take
Deciding whether to take your pension in a lump sum or an annuity is a personal decision, and each option offers pros and cons. Let's look at some of the factors that could affect your decision:
Lump Sum Payment
Lump Sum Pros
Receiving a lump sum could enable the recipient to invest in a wider range of asset classes, improving diversification and staying ahead of inflation.
Receiving a lump sum could enable the recipient to leave the money to contingent beneficiaries instead of just a spouse.
Lump sum distributions provide recipients with more flexibility to decide how and when to spend it.
Having flexibility provides additional tax planning strategies to mitigate the impact of taxes over time.
Lump Sum Cons
Lump sums are taxable upon distribution unless rolled over to an IRA.
According to the Consumer Financial Protection Bureau (CFPB), you could be at risk of outliving your money.
Those who roll a lump-sum distribution into an IRA will have to take required minimum distributions at age 72.
Pension Annuity Stream of Payments
Annuity Pros
A stream of annuity payments continue for as long as you live, and can potentially continue for your spouse after you die.
Peace of mind from knowing that your monthly payments won't run out.
Good for those who are not confident about their ability to invest or concerned about volatility in the markets.
Annuity Cons
Annuity payments typically cease completely after the death of both spouses, preventing you from leaving the money to other people.
Annuity payments are fixed, which could be less helpful if you need funds in an emergency and are at significant risk to increasing rates of inflation.
If the company becomes bankrupt, pension payments could be lower or stop altogether.
Another important factor in the decision of whether to choose a lump sum or an annuity involves the amount of the pension. If your pension is very small, it may not matter which option you choose if you have other income and don't need the money.
How a Financial Advisor Can Help
While you could use an online calculator to determine which option you should take, you may benefit more by discussing your options with your financial advisor. An interpretive advisor with a holistic approach can help you weigh your pension benefits in the context of your other expected retirement income, explain the pros and cons specific to your financial situation as well as any rules you need to follow, and work with you to determine the most appropriate timing, tax treatment, and estate planning options for you and your family.
Making decisions about pensions and retirement can be stressful, particularly as interest rates climb. If you plan to retire sooner than later, start now to understand how to make your pension work best for you.