Navigating the Pause: What Borrowers Need to Know about Student Loan Payments
On March 20, 2020, the Trump administration began providing temporary relief on federal student loans in response to the COVID-19 pandemic. The deadly virus wreaked havoc on the United States' economy. As a result, The office of Federal Student Aid suspended loan payments, stopped collecting on defaulted loans, and eliminated the interest rate.
A week later the Coronavirus Aid, Relief, and Economic Security Act (CARES Act) became law. The CARES Act provided for the relief measures through Sept. 30, 2020. Throughout the remainder of Donald Trump's time in office, the COVID-19 emergency relief measures were extended.
During his campaign, Joe Biden promised widespread student loan forgiveness. Approximately 43.5 million Americans are on the hook for $1.76 trillion in student loan debt and they would surely welcome assistance from Uncle Sam. On Aug. 24, 2022, President Biden announced a three-part student loan forgiveness plan to eliminate student loan debt, lower monthly payments, and make college more affordable. The details of this plan can be found here.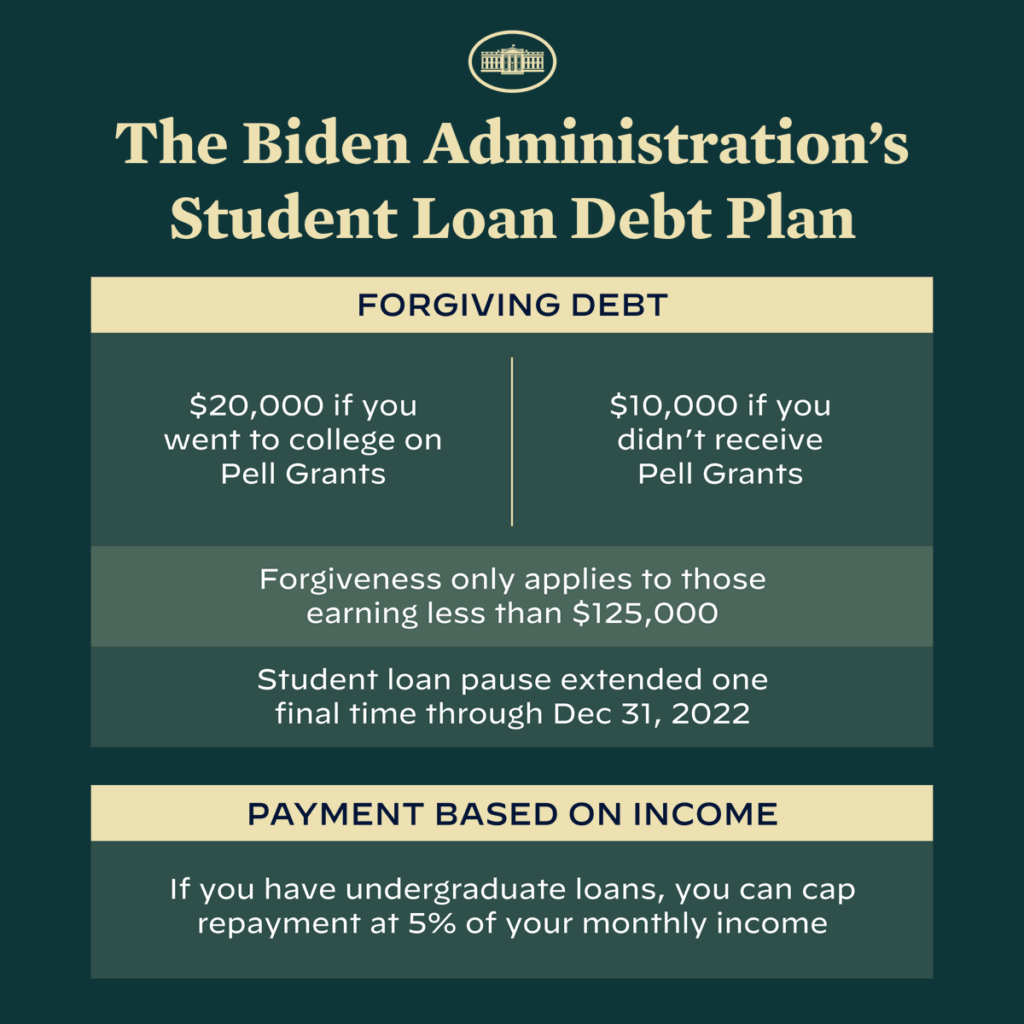 Biden's plan was met with both cheers and opposition. Supporters of wide-scale forgiveness say student loan cancellation could stimulate the economy by freeing up the cash flow of millions allowing them to start businesses, purchase homes, and much more. Loan forgiveness is widely supported by the public on a bipartisan basis according to multiple studies.
The plan for forgiveness was halted as lawsuits mounted. Pacific Legal Foundation filed a federal lawsuit claiming, "It's flagrantly illegal for the executive branch to create a $500 billion program by press release and without statutory authority or even the basic notice and comment procedure for new regulations." Other opponents of student loan forgiveness stated that it is unconstitutional and that the President is overstepping his bounds. Another argument is that the student loan providers will lose revenue, which would adversely impact the states where they are based. Finally, some believe it will inevitably lead to greater divisions among Americans, as those who paid their loans may feel snubbed.
In February 2023, the Supreme Court heard oral arguments from both sides. As of this writing, the country is waiting on their decision, which is expected in the summer of 2023. In the meantime, the White House has extended the pause on student loan payments. Ultimately, it is set to end 60 days after the debt forgiveness has been unblocked or June 30th (whichever comes first).
Borrowers need to be prepared either way. Between now and when the decision is made, borrowers may consider consolidating the loans or refinancing to a private lender. The forgiveness is only for federal loans. As we approach the Supreme Court decision, borrowers who still hold student loans should also make sure they are prepared to start making payments again in late summer or early fall. For those who haven't made payments for a few years, this could have a significant budget impact.
If you work with a Savant advisor and have questions about your student loans, please feel free to contact your advisor to discuss your options as part of your overall financial plans.