Prioritizing Long-Term Goals Over Short-Term Resolutions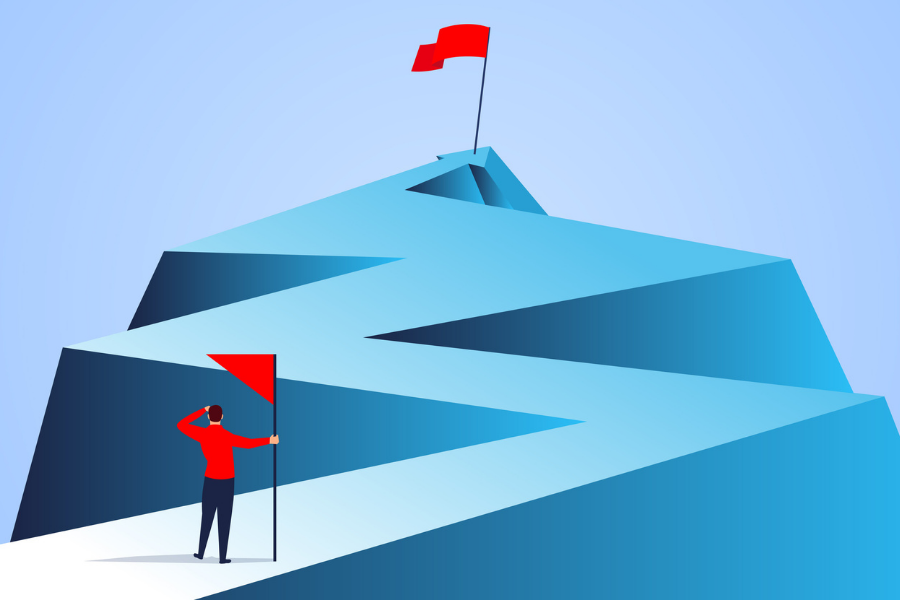 As we enter 2022, many Americans are making financial resolutions for the new year, and reviewing what worked or didn't work in 2021. Recently, Fidelity attempted to quantify what people think about making New Year financial resolutions, and what their top concerns are for 2022. Top resolutions included saving more money, paying down debt, and spending less. Not surprisingly, top concerns included inflation and the rising cost of food and other day-to-day expenses, unexpected expenses, and the pandemic's impact on the economy.
While making resolutions may help you achieve easy short-term goals, they likely won't help you weather complexities like inflation or the pandemic as you plan for your next chapter (whether that's retirement or something else), optimize the amount of taxes you pay, or keep you from making a knee-jerk decision during times of market volatility. That's where working with a competent, ethical financial advisor can help.
Envisioning Your Ideal Future
Maybe you haven't started thinking about your plans beyond the next year or two. Your short-term plans may include buying a house, funding a child's education, or welcoming a baby to your family. But it's never too early to think beyond the immediate future because, as many retirees will tell you, the distant future will be here before you know it. A financial advisor can help you identify what's most important to you and work with you to map out your long-term action plan. That may include creating an investment strategy to help you build wealth, developing an estate plan, and minimizing the taxes you owe up to retirement and beyond.
Advisors at Savant Wealth Management start by assessing their clients' current financial health. In a way, it's like going to the doctor for a physical. Using a proprietary assessment tool, our advisors can identify areas where you may be taking needless risks, as well as areas that merit more focused attention to reach your long-term goals. Our complimentary "Ideal Futures" assessment is a three-minute exercise available on our website. To get started, simply take the assessment. After you see your results, you'll have an opportunity to discuss them with one of our financial advisors and decide whether our firm is a fit for you.
Integrating Tax, Financial, and Investment Strategies
Shopping for a trustworthy financial advisor isn't always easy, especially because, in the U.S., the title isn't tightly regulated. That means almost anyone – from an insurance broker to a stockbroker to a holistic financial advisor – can use the same title to describe what they do. If you're looking for a financial advisor who will look at all aspects of your financial situation and consider strategies that work in concert with each other, an advisor with a holistic approach will likely be your best bet. This is particularly important when considering the impact of taxes. Research by the Schwab Center for Financial Research found that while investment selection and asset allocation are important factors affecting returns, minimizing taxes can also help you keep more of your money. A holistic advisor can work with you to create a long-term tax projection so you can better understand the impact of taxes, and potentially avoid an unwanted tax bill in the future.
Advisor as Accountability Partner
We know that having a partner works when trying to achieve an important goal. That's why weight-loss coaches and personal trainers can be so beneficial. The same is true when it comes to your finances. For example, when the markets dropped suddenly in March 2020 in reaction to COVID-19's potential impact on the economy, many investors seemed ready to abandon their careful long-term strategies because they feared a short-term loss. Having an advisor who looks out for your best interests would have likely led a scared investor to a different conclusion because historical evidence shows that markets tend to deliver positive returns in the periods following steep declines.
Think Bigger Than Annual Resolutions
Creating New Year's resolutions can be a lot of fun and may provide you with short-term rewards, like a fatter wallet or one less credit card bill. But as author Dorie Clark writes in her book, The Long Game, "Long-term thinking protects us during downturns (of all kinds), because it keeps us moving toward our most important goals." Working with a financial advisor could positively affect your life and well-being far beyond "saving money" or "spending less." As you write your resolutions for 2022, consider whether working with a financial advisor might be a better choice. Your short-term resolution could then be, "Find an advisor who's right for me and my family."
---