Savant Insights Readers Weigh In on Holiday Spending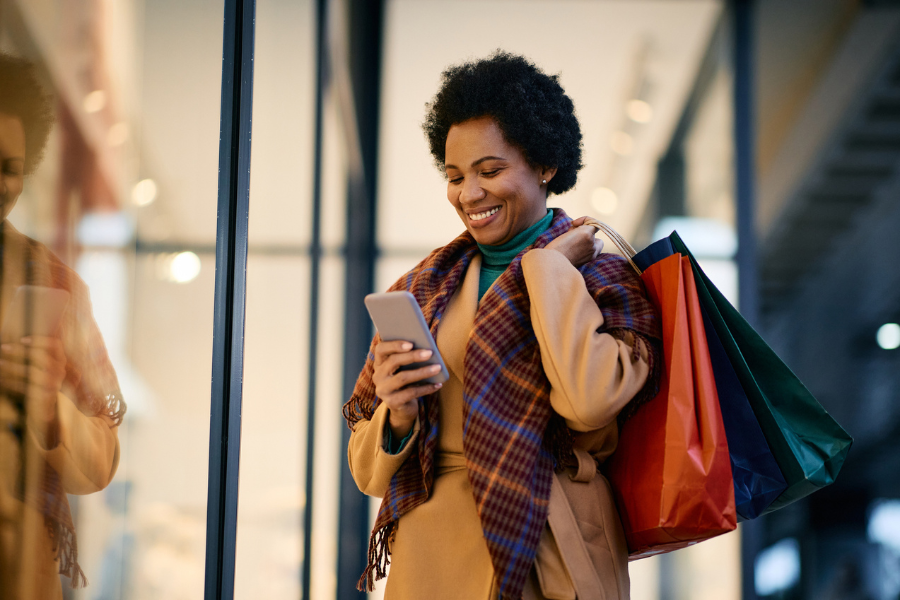 In recent months, pollsters have published varying survey results attempting to gauge how – and how much – Americans plan to spend on holiday gifts, entertainment and travel this year. A new GOBankingRates survey found that 33% of Americans were planning to cut back on holiday spending as a result of inflation, while participants in PwC's holiday spending survey said they expected their spending levels to remain similar to last year.
Last week, we asked Savant Insights readers to share their spending expectations with us, and while our results are not scientific, we generally found that inflation is not having a significant impact on our readers' holiday spending, but they are keeping an eye on prices. Here's a summary of our results:
Survey Participants
Our pulse survey attracted both clients and non-clients of Savant, with the majority of respondents aged 55 and older (85%) and female (58.5%). While 41.5% listed their household incomes ranging between $100,000 and $250,000, 30% indicated a household income of $50,000 – $99,000, and roughly 17% reported household income above $250,000.
Gifts for Friends and/or Loved Ones
Most Insights readers expect to spend more than $1,000 on gifts for loved ones and friends this year (43.4%), with nearly 19% saying they expected to spend $251-$500. Just under 4% indicated they won't be purchasing gifts.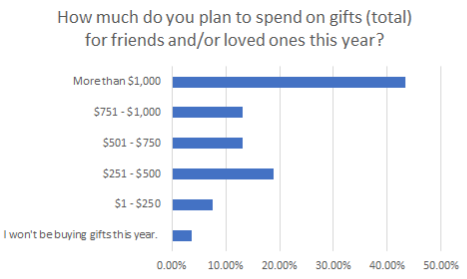 How does this compare with last year? For approximately 81%, it's about the same. Just 13.2% said they would be spending less, while 5.6% said they expected to spend more.
While several respondents mentioned inflation, the effects of COVID-19 and the flu, and market declines as reasons for their answers, one respondent mentioned spending less in general due to retirement. Another mentioned donating more money this year over last year. Finally, one person commented: "No longer buy gifts for those who are capable of purchasing their own items – purchasing small gifts for kids I purchase gifts for – so they know I'm thinking of them."
Holiday Travel
Most of our survey respondents plan to stay home for the holidays this year, while just over a third plan to spend less than $1,000 on travel. Just under 10% will spend over $2,000 this year.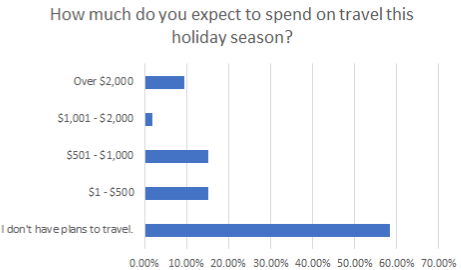 For 22.6%, travel spending for the holidays will be more than last year, but for more than 62%, it's about the same this year. Only 15% planned to spend less. Said one survey participant: "We have saved to travel this Christmas, which is our holiday tradition. So, after 2 years of staying home this is our big splurge. Travel vs. giving large gifts."
Holiday Entertainment
The majority of respondents told us they expect to spend anywhere from $101 to $250 on entertainment over the holidays, with 26.4% expecting to spend less than $100. Some plan to splurge a little, saying they'll spend between $251 and $500 (18.8%), and just over 13% plan to spend more than $500.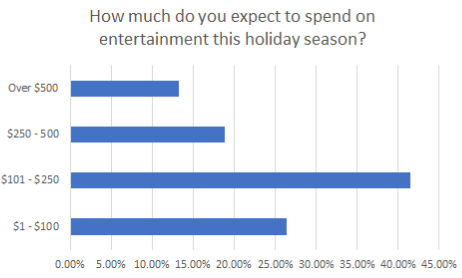 Again, most participants (67.9%) said their entertainment spending is on par with last year, with 20.7% expecting to spend more. Just over 11% said they would be spending less. "We altered our Christmas meal," said one respondent. "No king crab legs this year."
When we asked what else you would like us to know about how inflation has affected your holiday spending, some of you noted that you purchase gifts all year long instead of just at the holidays. For others, being a good saver helps. "I'm not focused on inflation at all," said one respondent. "Why not? Because I pre-save for things like gifts. And as for entertainment, it depends on getting together with friends, some of whom are not always in town."
Thanks to all of you who participated, and may your holidays be merry and bright, no matter what you plan to spend!