Savant Insights Readers Weigh In on Inflation, Financial Stress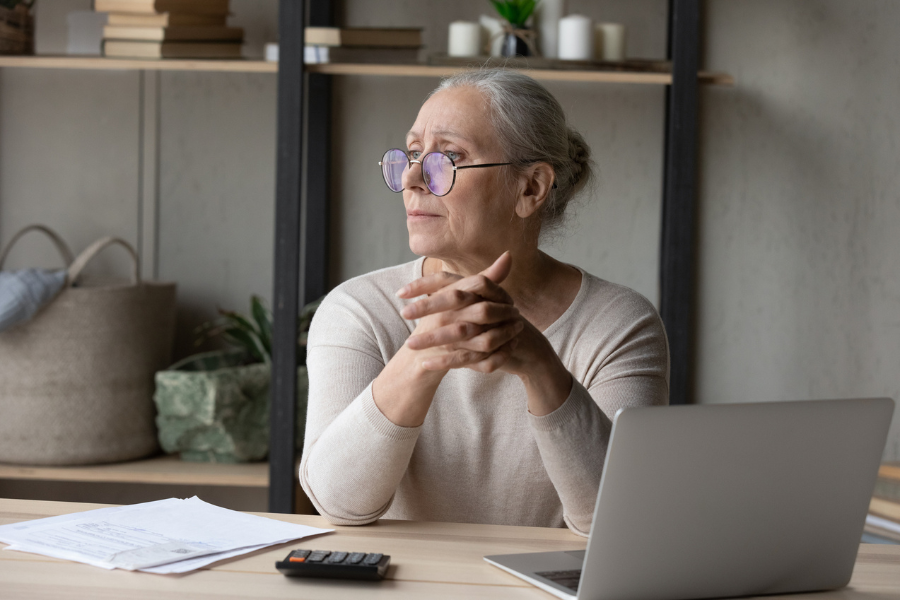 Last week, as the Fed raised the benchmark rate by another 75 basis points, we asked Savant Insights readers to share their thoughts on how inflation is affecting them. We wanted to know about the areas where they are cutting back, as well as the areas in which they'll continue to spend, no matter what. Although our sample size is small and the survey unscientific, we enjoyed hearing what's important to Insights readers, as well as what changes they're making to cope with rising prices, higher interest rates, and continued market volatility.
Who Took the Savant Insights Pulse Survey?
About 79% of our survey respondents were Savant clients. More than 60 percent of survey participants said they were 65 or older, with the next largest cohort between the ages of 55 and 64 (24%). A majority of respondents reported an annual household income of $100,000 or more, while approximately 29% said their income ranged between $50,000 and $99,999 per year.
Where Readers Are Feeling Stressed
We asked Insights readers which area has caused them the most financial stress over the past six months. Overwhelmingly, respondents told us they were most stressed by market performance Considering that the S&P 500 reached its lowest level of the year earlier this week and the Dow Jones Industrials officially entered a bear market, it's likely those stressful feelings will continue for the foreseeable future. In second place, gas prices, (11%) which rose sharply in the spring, peaked in mid-June, saw a nice decline, and are now back on the rise. Food costs, which experienced a year-over-year increase of 11.4% in August, took third place, followed by housing and healthcare costs.
When asked what other areas caused readers to feel stress in the last six months, one respondent said, "All of the above." Others said home repair and maintenance and childcare costs had caused stress over the past six months.
Where Readers Have Cut Back
With Americans focused on cutting spending, we were curious to learn in which areas Savant Insights readers are spending less because of inflation. We allowed survey takers to choose multiple responses and asked them to add other areas we may have missed. Readers told us their top areas for cutting spending were dining out (54%), travel (50%), and arts/entertainment (39%).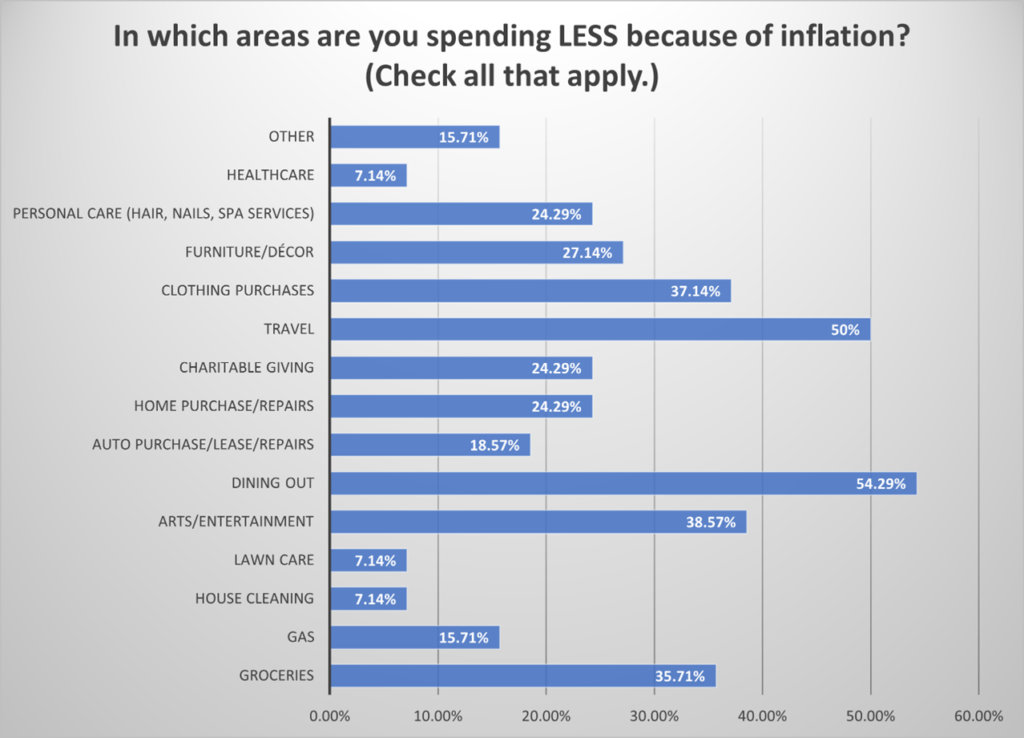 Savant Insights Survey: 9/22/22 – 9/27/22

In addition to the categories cited in the question, one person added "pet meds and care" as an area where they were spending less. Another reader commented that they were "delaying purchase of big ticket items that seem to be inflated due to supply-chain issues and/or bubble: used luxury cars, second home in Florida." Finally, one reader said COVID-19 was the greatest influence on things the person had omitted, not inflation.
Where Readers Won't Cut Back
Healthcare (56%), groceries (56%), gas (51%), and charitable giving (39%) are readers' priorities for continued spending, with house cleaning (29%), lawn care (29%), and personal care (26%) next in line.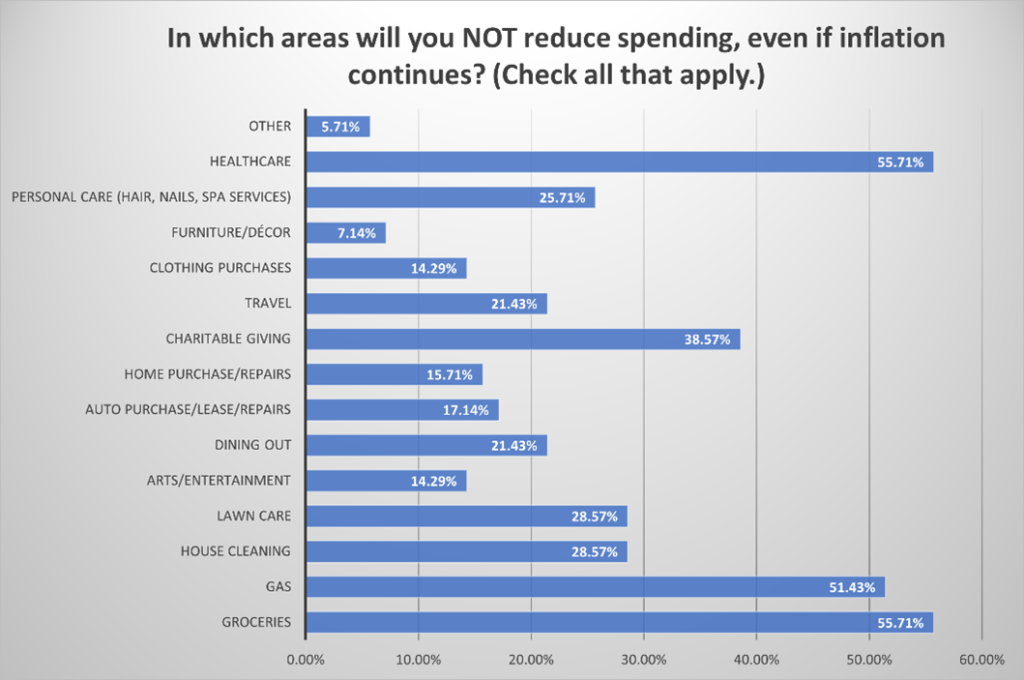 Savant Insights Survey: 9/22/22 – 9/27/22
Under "Other," one added pet care. Another responded noted that they are "choosing to purchase luxury jewelry/clothing items (when possible) on second hand/resale sites for better value and better for the environment." Finally, one person said they were "unable to predict" in which areas they would continue to spend.
Our last question sought to learn why respondents had chosen to continue to spend in certain areas, even if inflation continues. Comments included:
"If I don't take care of my health none of the rest matters."
"I still need food and even if I'm spending more on food for home it still is less than dining out. I also entertain my family at my home and food is a given. House cleaning and lawn care take up my time and time is money, so if I have to devote time to these tasks it reduces hours I can work. In addition lawn care is only once a month and house cleaning twice a month, so that keeps the costs down."
"I have to cut back to some store brands, but cooking is part of my personal entertainment. I like to have the ingredients I need for the things I want to make. Symphony and theater are also important to us."
"Charitable giving is not an option for cutting. Utilizing small local businesses and refuse to cause them a reduction in funds."
"I have to get to work so gas is not optional. And I value charitable giving too much to reduce or stop it. God is faithful!"
Thanks so much to everyone who participated in our survey. We appreciate hearing your perspectives!
---
Please Note: The testimonials provided were made by current clients of Savant Wealth Management ("Savant"). Clients were not compensated, directly or indirectly, for providing any testimonial of Savant, its Advisers or their services. Keeping in mind that no two clients, situations, or experiences are exactly alike, the client testimonial should not give any assurance that Savant may be able to help any client achieve the same satisfactory results. To the contrary, there can be no assurance that a client or prospective client will experience a certain level of results or satisfaction if Savant is engaged, or continues to be engaged, to provide investment advisory services. Please remember that past performance may not be indicative of future results.