The Financial Lessons of Washington and Lincoln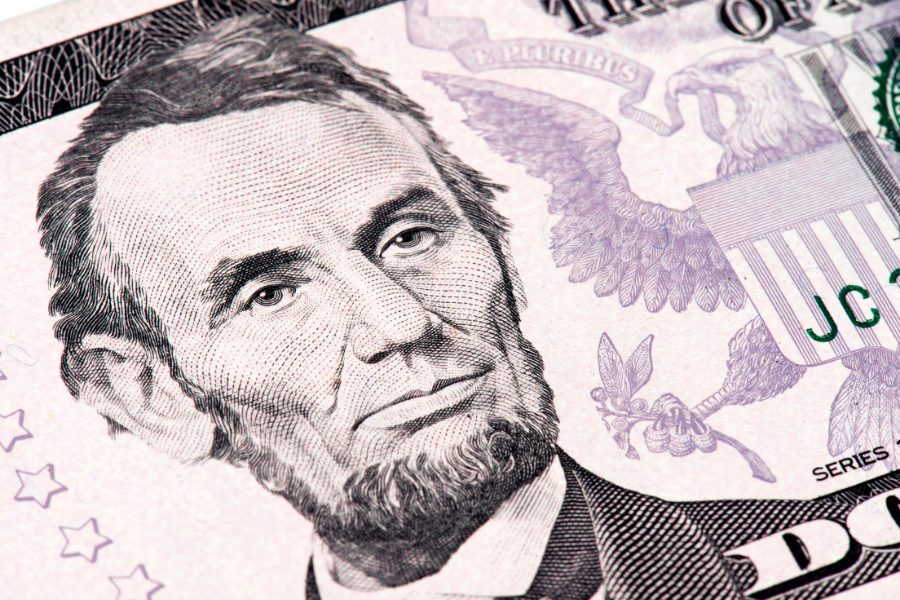 On Monday, Feb. 21, the U.S. celebrates Presidents Day, in honor of two presidents with February birthdays: Abraham Lincoln (Feb. 12) and George Washington (Feb. 22). Both presidents appear on U.S. currency – Washington on the $1 bill and quarter, and Lincoln on the $5 bill and penny. While both were leaders who continue to inspire Americans to this day, history appears to show that neither Washington nor Lincoln were personal finance experts, even though they both had plenty to say about money during their presidencies.
George Washington, Our Nation's First President
"To contract new debts is not the way to pay old ones." – George Washington
According to MountVernon.org, George Washington discussed debt in a letter to James Welch in 1799. Welch leased land from Washington but failed to make any payments. Washington, who was a farmer, reportedly had his own issues maintaining cash flow, so, as his letter stated, he was "in extreme want of the money." Although he was considered a man of great wealth, Washington had to borrow 600 pounds at a rate of 6% interest just to make the journey to his own inauguration!
What financial lessons can we learn from President Washington? Although he had little formal education, he built a library that consisted of more than 1,200 titles and supported colleges and universities as a means of educating the next generation. His financial education may have been more intuitive than trained. However, one lesson we can learn stems from his comment about debt – don't borrow from one source to pay off another. In a society where debt financing is common and frequently used, Washington's first lesson cautions us to avoid a debt spiral by borrowing only what we can pay back in a timely manner.
An article in Money magazine also highlighted Washington's penchant for diversifying his assets. During the mid-1700s, when the market for tobacco became volatile, Washington reportedly switched to growing wheat. He started renting land instead of buying it when the land started to lose its value, and also charged fishermen to use his docks on the Chesapeake River. Perhaps Washington's second lesson is that we can benefit by spreading our risk through diversification!
Abraham Lincoln, Our Nation's 16th President
Abe Lincoln experienced some financial failures early in his career that left him with a debt of approximately $1,100, but he retired his debt by doing odd jobs, surveying, and serving as a member of the Illinois legislature, according to the "Personal Finances of Abraham Lincoln," by Harry E. Pratt.
In fact, by the time of his death, Lincoln's net estate totaled $111,000, and was divided among his wife and sons. He made money by practicing law and holding office, but he also became a lender of money, charging 10% per annum during a time when others charged a much higher rate.
As president, Lincoln made several sophisticated money moves to support the U.S. economy, including helping to conceive the national banking system and the Office of the Comptroller of the Currency as part of the National Currency Act. The law helped resolve conflicting regulatory standards and create a uniform currency at a time when individual banks circulated different types of gold and silver coins along with paper notes that could be redeemed for their face value in precious metal.
Lincoln was also the first to impose a national income tax as a way to help fund the military during the Civil War. His Revenue Act of 1861 lasted just 10 years but eventually led to the federal income tax program we know today.
What can we learn from Lincoln? One lesson could be the importance of paying off debt and saving regularly. Doing so enabled Lincoln to have an estate to leave to his loved ones. Perhaps another lesson could involve using creativity to help reduce debt and build wealth. Although we're not recommending that you become a lender, a taxer, or a currency creator, we do admire Lincoln's creative thinking as he worked honestly to solve money issues – for himself and the country.
In the modern age, achieving your life and financial goals can be complex, and that's why working with a knowledgeable team of financial, legal, and tax advisors can be helpful. At Savant, our focus is on providing advice that's in your best interests. Happy Presidents Day!