The Pandemic's Effect on Plans for Retirement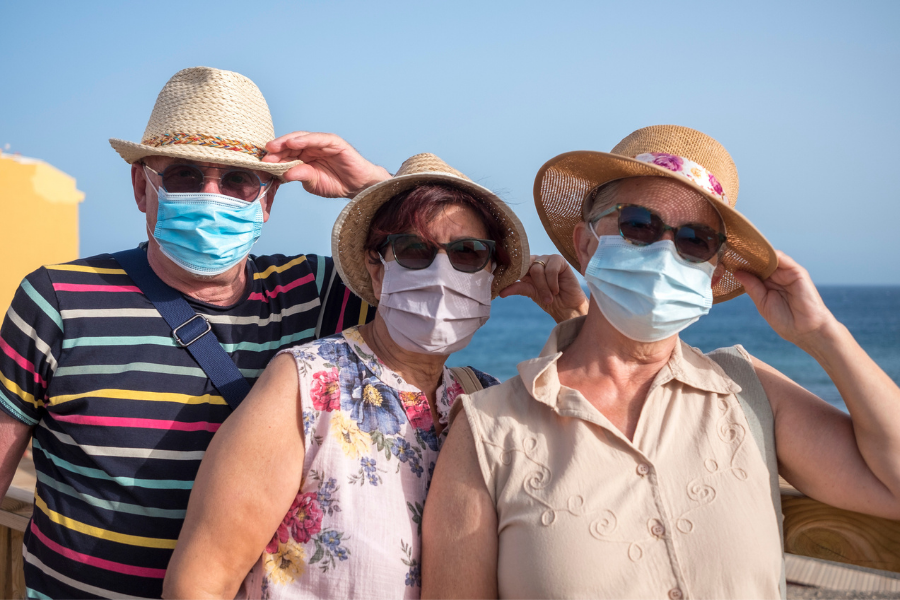 In 2020, the COVID-19 pandemic wreaked havoc on our economy, and with it, our plans for the future. According to the Center on Budget and Policy Priorities, Americans suffered in numerous ways. From the effects of the disease itself to job losses, an inability to make rent or mortgage payments, difficulty covering household expenses, and other kinds of hardship, some people are still struggling to get back on their financial feet.
While layoffs and furloughs accelerated retirement plans for some, Savant Wealth Management wanted to learn more about the pandemic's effects on retirement plans for high-net-worth investors and whether factors like age or gender made a difference. We partnered with research and consulting firm Absolute Engagement earlier this year to learn more.
We began by asking an overarching question: "Has the global pandemic changed your plans for retirement?" While most of the 750 investors we surveyed said their plans weren't changing, nearly a third (32 percent) said they were, while three percent were unsure.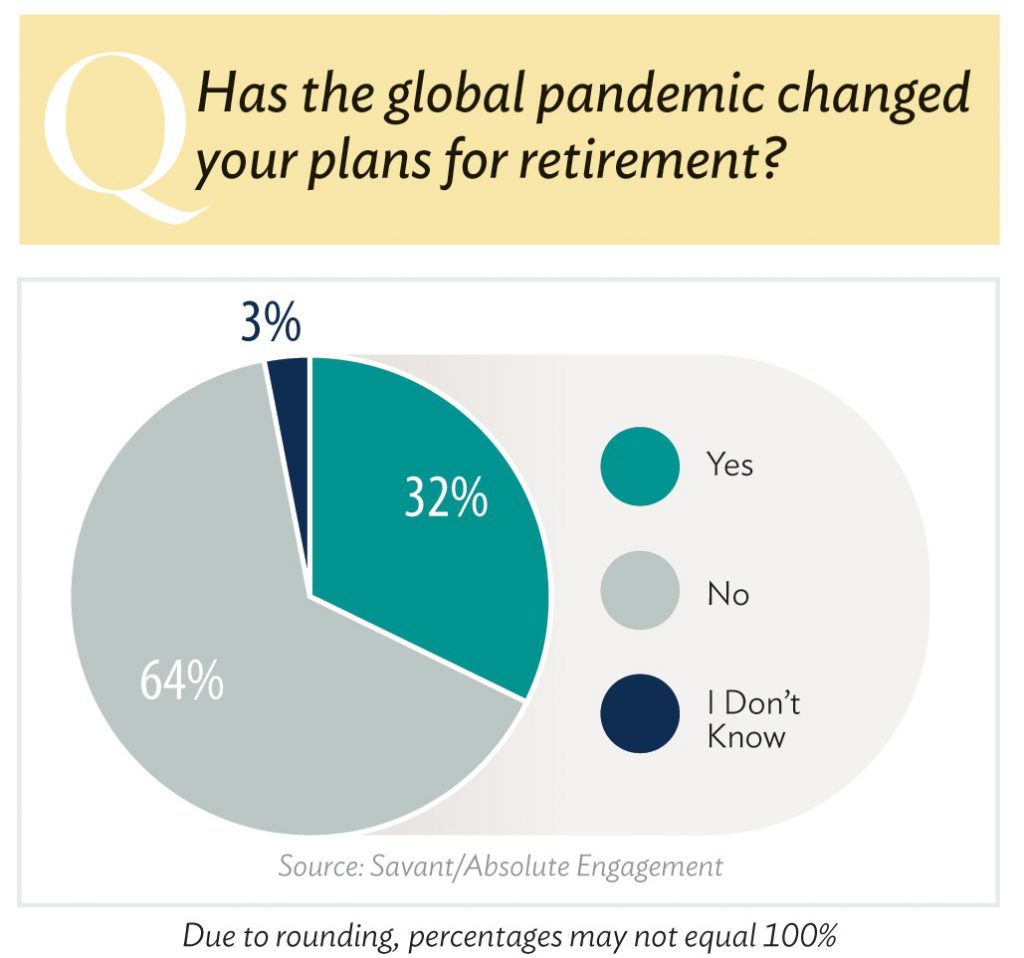 We also learned that while on the whole, people aren't changing their plans, the averages don't tell the whole story. In fact, a much higher proportion of younger people – aged 45 and under – said their retirement plans will be affected by the pandemic, with 74 percent saying they will likely work longer than planned.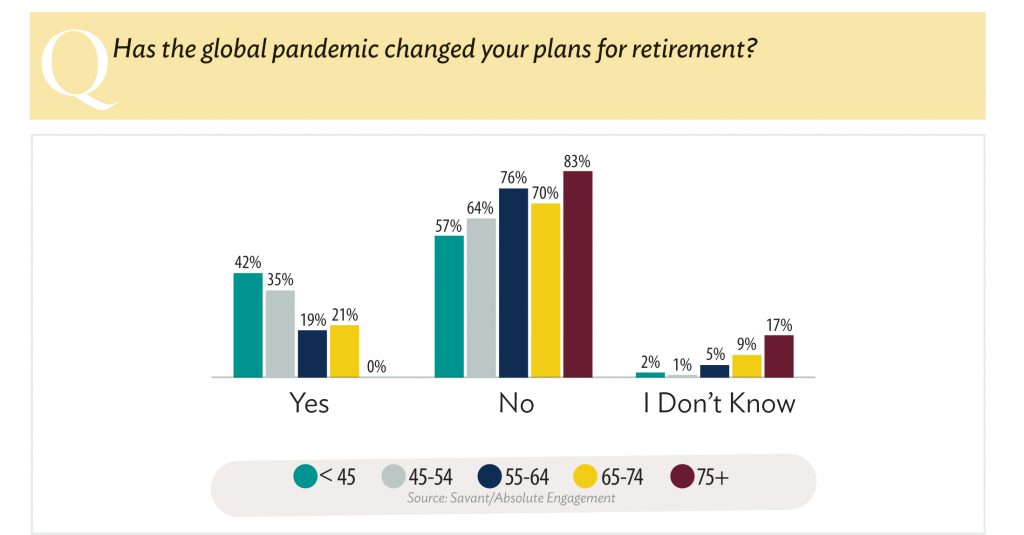 Men and women also differed on the effects of the pandemic on their plans for retirement, with 71 percent of women saying their plans have not changed, compared to 60 percent of men. Men were more likely to indicate they will need to work longer, but also were more likely to say they wanted to spend their time differently as a result of the pandemic.
When asked how the pandemic affected their plans, most of our respondents (68 percent) said they would likely work longer than they had planned. However, nearly a third (32 percent) said they wanted to stop working full-time earlier, and another 25 percent said they wanted to spend their time in retirement differently than they originally planned.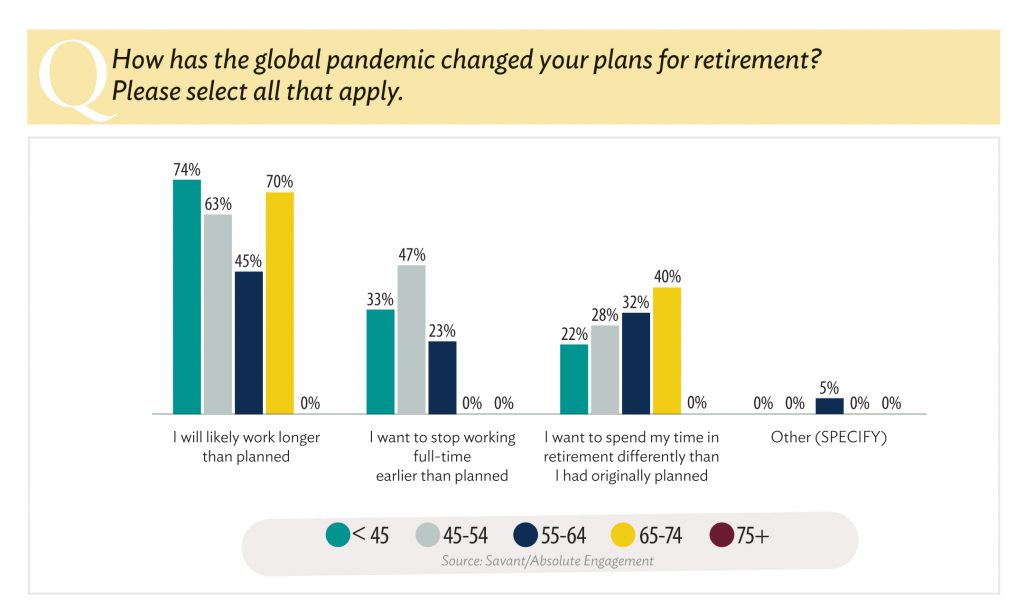 Some Savant advisors have worked with clients who decided to retire earlier as a result of the pandemic. "The stars almost aligned for most who were thinking of retiring in 2021 or 2022," says Kevin McFadden, CFP®, LUTCF®, an advisor in Savant's Rockford, Illinois office. "After the initial shock people experienced when the markets fell significantly in March 2020, we began to see higher market returns almost immediately. At that point, I saw some clients solidify their plans to retire sooner."
In our survey, respondents in several age groups had different opinions on planned changes. Younger investors were more focused on the prospect of having to work longer, while older investors focused on how they want to spend their time. Just 22 percent of people under the age of 45 said they wanted to spend their time differently, compared to 32 percent of people in the traditional pre-retirement age range of 55 to 64, and 40 percent of people in the retirement age range (65 to 74).
If your plans for retirement are changing as a result of the COVID-19 pandemic, Savant's advisors can help you evaluate your retirement readiness. As AARP's John Waggoner pointed out earlier this year, retiring early without planning for things like health care and other expenses can have serious consequences. Conversely, you may be financially ready to retire, but haven't considered how you'll spend your time. Our advisors work with many different types of clients to determine what their "ideal future" looks like and make a plan to bring them closer to reaching their goals. Contact us to learn how we can help you.
---
Savant Wealth Management ("Savant") is an SEC registered investment adviser headquartered in Rockford, Illinois. Past performance may not be indicative of future results. Different types of investments involve varying degrees of risk. Therefore, it should not be assumed that future performance of any specific investment or investment strategy, including the investments and/or investment strategies recommended and/or undertaken by Savant, or any non-investment related services, will be profitable, equal any historical performance levels, be suitable for your portfolio or individual situation, or prove successful.