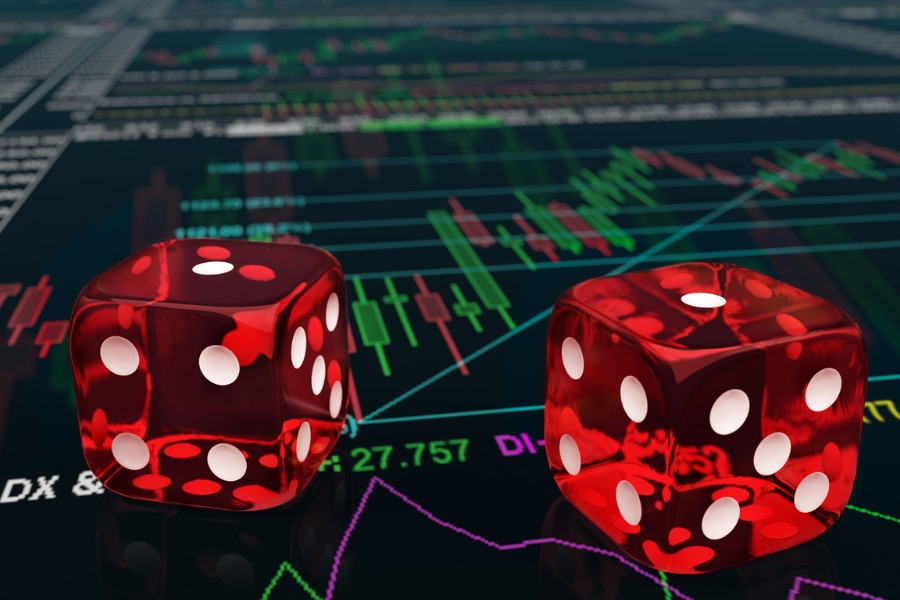 "The Tramp Co. Corporation, out of, uhh, Springfield I think, they're about to introduce some sort of robot butcher. If you want to get in … there's very little time." – George Costanza
In Season one of Seinfeld, George tells Jerry Seinfeld a "friend of a friend" gave him a stock tip and encouraged him to invest alongside him. Seinfeld decided to join Costanza, both investing a couple thousand dollars into SenTracks, a company that, in Costanza's words, "had some kind of new technique for televising opera."
As fate would have it, their investment was immediately followed by a sharp decline in the stock's value. As Seinfeld panicked, Costanza tried to get in touch with the original tip source who had become hospitalized and unreachable.
Under pressure from his neighbor Cosmo Kramer who declared that "the entire market was manipulated by junk bonds and you can't win," Seinfeld dumped his shares at a loss. Costanza decided to "go down with the ship" and continued holding his shares.
In short order, the stock rallied, leaving Costanza flush with profits and Seinfeld with a realized loss because he sold at the bottom.
The episode ends with Costanza smoking a cigar, feet propped on a table, pitching Seinfeld the next opportunity, the Tramp Co. Corporation.
In Costanza's case, it was the classic example of "gambling money has no home." Costanza made some money and wanted another spin of the wheel.
Seinfeld's "Stock Tip" episode is an apt analog for many things playing out in the market today.
Corporate balance sheets hold record amounts of cash, ordinary folks are awash in government stimulus, and investors are sitting on profits with many markets at all-time highs.
Seemingly everywhere you look, the world is flush with cash. That cash is earning next to nothing in the bank, which has the unintended effect of pushing investors into riskier assets looking for more return.
We see this theme playing out in different assets. U.S. stock prices are up between 45-80% in the last year.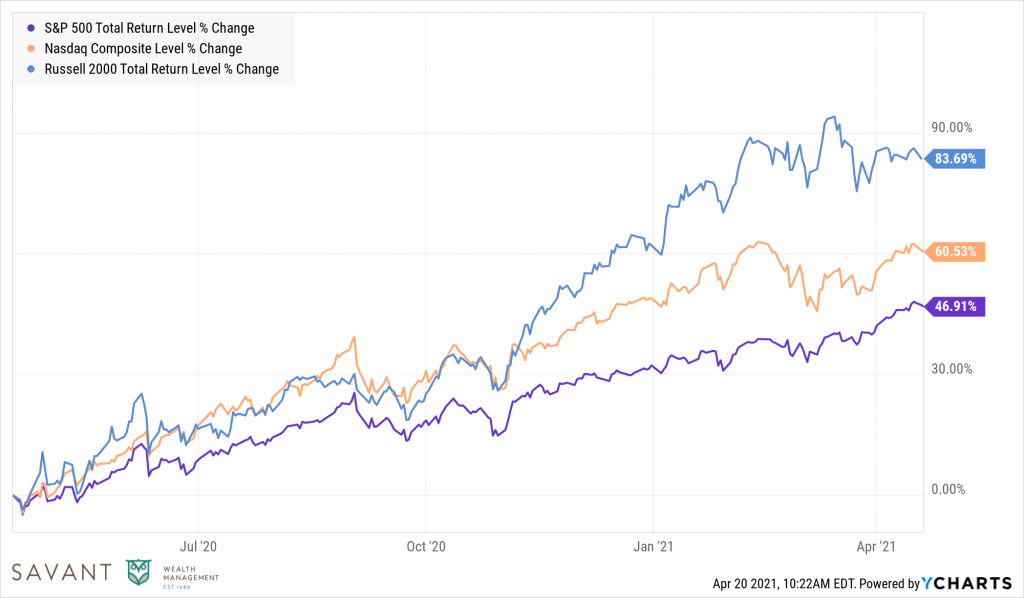 Source: Ycharts. Data from March 2020 – March 2021.
Home prices in 20 of the largest metro areas in the U.S. are up 11% versus last year, the highest year-over-year increase since 2013. In 17 of the 20 largest metro areas, home prices are at all-time highs.
Source: Ycharts. Data from March 2011 – March 2021.
Home prices and stock prices make up the majority of investors' net worth; when both are surging together, it goes a long way to inspiring confidence, in addition to speculation.
One area of rampant speculation has been cryptocurrencies. The two largest assets in the space, Bitcoin and Ethereum, are up 650% and 1,000% over the past year, respectively.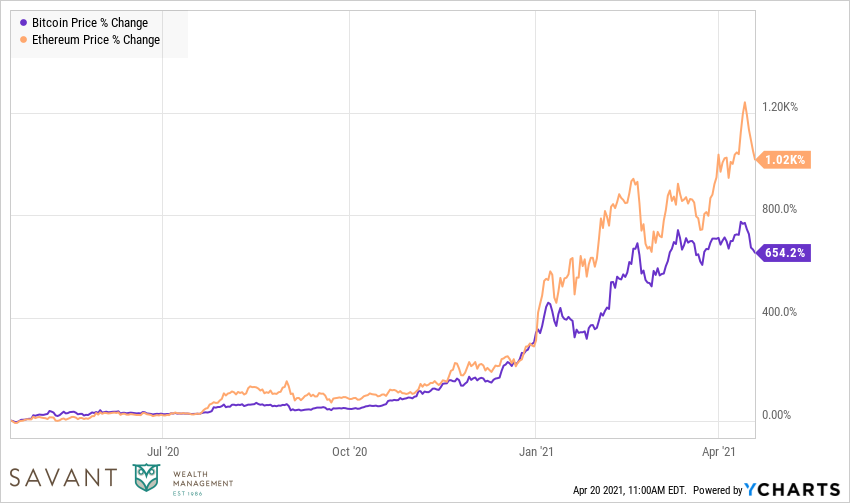 Source: Ycharts. Data from March 2020 – March 2021.
Another cryptocurrency, Dogecoin, created by a San Francisco software engineer intended as a joke amongst friends, has surged 6,000% this year. Dogecoin now possesses a market cap of $50 billion, greater than Ford Motor Company.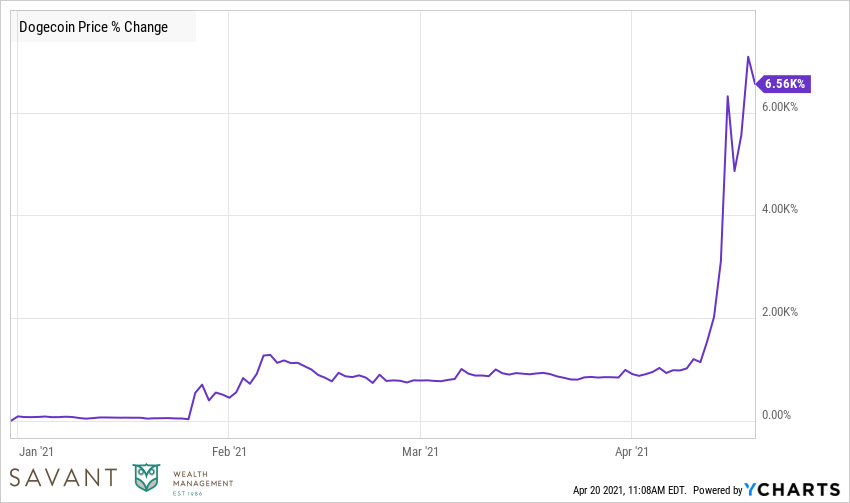 Source: Ycharts. Data from year to date through April 20, 2021.
While Bitcoin and Ethereum have practical applications that are gaining acceptance with Fortune 500 companies, Dogecoin feels like the poster child for speculation and excess.
Collectibles and memorabilia have also participated, with everything from trading cards, art, and wine to dinosaur bones surging in interest from speculative parties.
A video clip of LeBron James dunking a basketball sold for $90,000 on a digital trading platform in February. The same video clip sold to another buyer for $208,000 only a few days later.
A Michael Jordan rookie card that sold for $50,000 in April of last year sold for $738,000 earlier this year.
A share of GameStop that cost $5 last summer surged to $483 a share in January.
Admittedly, these are only a few examples, but it certainly feels like a mini mania pops up in a new asset on a weekly basis.
To the extent you can, heed the advice from the late Jack Bogle, founder of Vanguard, who said: "The stock market is a giant distraction to the business of investing. It's corporate America that creates value; the stock market itself creates none. In fact, the stock market subtracts value, due to all the costs we pay to play the game. It's a little bit like the casino."
There is a lot of casino type behavior playing out in different assets.
If you are going to step in the proverbial casino, keep it in moderation, while being aware that you are doing it. If only for "mental accounting" purposes, it's often best for these activities to take place outside of a normal long-term investing account and keep it to a small percentage of liquid assets.
This can provide an emotional hedge if the assets in which you invested increase in value. To the contrary, if they decrease in value, losses are capped to a small percentage of liquid assets.
All of us are vulnerable to unforced errors that can affect our personal success. The temptations are elevated right now – big name IPOs, trendy special purpose acquisition companies (SPACs), unique collectibles – and sometimes achieving peace of mind comes from the feeling that you're not missing out.
Even if robot butchers are the future, don't bet the house on it!
---
This is intended for educational purposes only and should not be construed as personalized investment advice. Please contact your investment professional regarding your unique needs.