5 Steps Toward Financial Independence for Women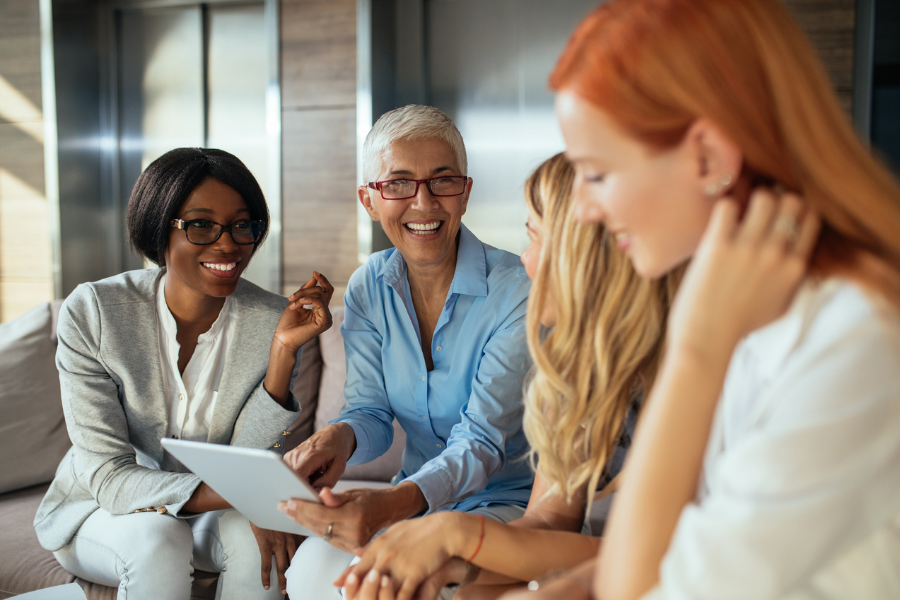 While financial independence may be a common goal for many individuals, women tend to face unique challenges that would otherwise enable them to participate equally in the financial world. For example, the Bureau of Labor Statistics showed women's full-time earnings in 2020 were just 82 percent of their male counterparts. And, because many women are also parents or caregivers, they can experience work disruptions that prevent them from getting ahead. An October 2020 report by the Brookings Institution showed one in four working women had a child under the age of 14 at home. When the COVID-19 outbreak started, the unemployment rate for women increased more than 12 percentage points between February and April 2020, compared to less than 10 percentage points for men.
Employment aside, women also tend to live longer than men, and that trend seems likely to increase, according to the U.S. Census Bureau, which projects that by 2060, the average life expectancy for women will reach 87.3 years, compared to just 83.9 years for men. And, women are more likely to be single later in life. The Pew Research Center found that roughly half of women 65 and older are unpartnered (49%), while women aged 30-49 were the least likely to be single (19%).
Despite these inherent challenges, many women can and do achieve financial independence without relying on a spouse's income. Here are five ways to get started:
#1 Set Goals
While not unique to women, goal setting can increase the likelihood of achievement and can help build self-confidence, motivation, and autonomy. Start with your long-term goals. How do you envision your retirement – do you wish to stop work completely, work part-time, or volunteer? Where and how do you imagine living? If you are married or with a partner, how might your future look different if you were on your own?
You may also wish to establish short-term goals or milestones for nearer-term purchases, like a home, a car, or an education fund for a child. Perhaps you and your spouse are contributing to these goals already. If you are single, however, understanding both your long and short-term goals can help you make an action plan to achieve them.
#2 Establish a Budget
Saving for the future takes discipline, and one of the best ways to teach yourself financial discipline is with a budget. As Savant's Adam Glassberg wrote last year, financial planning is all about controlling what you can control, and a budget is a great place to start. If you find that you can't cover your immediate needs with what you earn, having a budget can help you understand how much you need to make up your shortfall each month. You may need to include a goal to find additional employment or creative ways to make more money, including applying for scholarships, or researching and qualifying for services.
#3 Reduce Debt
Credit card debt can be debilitating, especially if you are using cards with high interest rates. Create a plan to pay off the highest-interest debt first. You may also be able to transfer your balance to a card with a lower interest rate and no annual fee. At the same time, adopt a mindset of using your credit card only for emergencies and don't charge more than you can pay each month.
#4 Save Regularly
Since women on average live longer than men, you need to plan for a longer retirement. While it's alarming to know that nearly one-fifth of U.S. working women have nothing saved for retirement, disciplined saving can help you plan for the future, even if it's only a little each month. While an ideal scenario is to start putting away 10-15% annually in your 20s, we know that life gets in the way and this is not always possible.
You can use a basic retirement calculator to help figure out how much you should be putting away and adjust as much as possible. If your employer offers a defined contribution plan, such as a 401(k), you can easily elect to earmark a portion of your paycheck toward your retirement account before it appears in your bank account. Your employer may also match the funds you contribute up to a certain amount. Once you figure out how much you need to put in to get a company match, see how much more of your own income you can add in without affecting your household budget. If there is no retirement option at work, investigate opening an IRA account. Traditional IRA contributions are tax-deferred, meaning they can lower your taxable income now (although you will be taxed when you begin to withdraw the money). You can also elect to use a Roth IRA, which is funded with after-tax dollars and would enable you to receive distributions tax-free in retirement.
#5 Invest Beyond Your Retirement Account
Investing sounds intimidating, but research shows that women are savvy investors. If you are unfamiliar with the basics, you may choose to educate yourself or seek the services of a financial advisor to help you create your investment plan. A holistic financial advisor will look at your entire financial picture and work with you to develop a low-cost, tax-efficient investing strategy.
Find a Financial Partner
In addition to helping you create an investment plan, a trustworthy financial advisor can take you through the necessary goal-setting, budgeting, and saving steps to bring you closer to financial independence. Your advisor can also act as an accountability partner, keeping you on track and acting as a sounding board when life throws you a financial curveball.
Not sure about the state of your finances, or just need a check-in? Take our Financial Health Assessment. You can also schedule a call to learn more about Savant and how we can work with you.