Housing – A "Soviet-era Supermarket"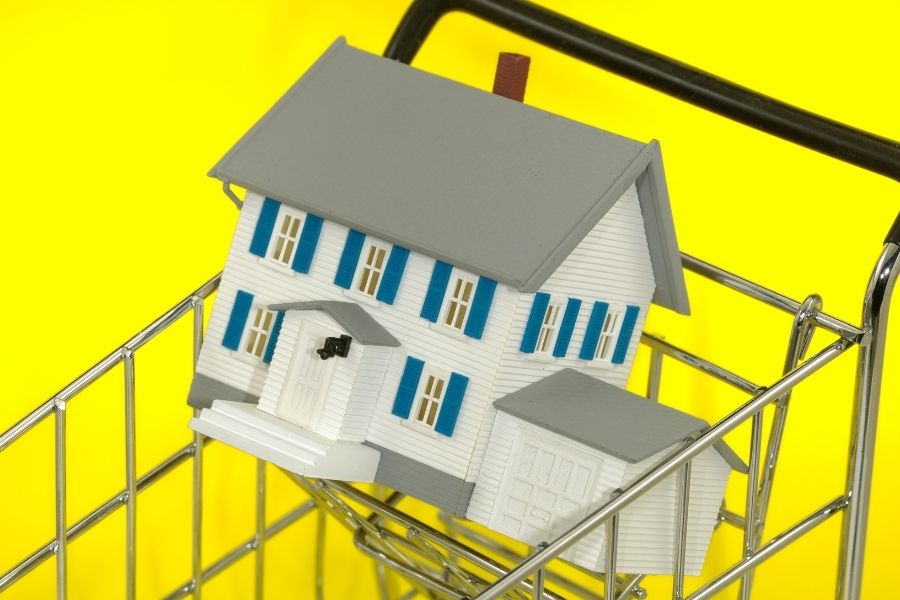 This past February, Redfin CEO Glenn Kelman summarized the state of housing in the United States: "The housing market is now like a Soviet-era supermarket, with most of the shelves empty. "
We are living through the hottest real estate market in more than a decade, and the temperature is rising by the day.
This pandemic has shown that people, if given the chance, will rearrange their lives for a nicer home. Most of the purchases you make in your life likely won't make you happier, at least not for very long, but housing seems to be the exception to that rule.
Because of this, the housing market is breaking records left and right.
The S&P/Case-Shiller U.S. National Home Price Index currently sits at an all-time high, up 12% year over year, which is the highest rate of annual growth since 2005.

Source: Ycharts, Jan 2002 – Feb 2021
Supply of homes remains tight. Per the Census Bureau, there is only a 3.2-month supply of new single-family homes on the market, the lowest reading since 2004.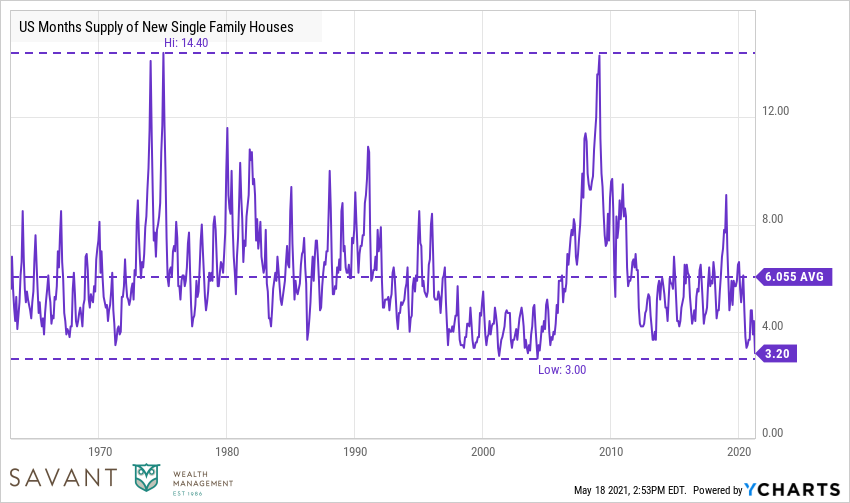 Source: Ycharts, Aug. 1963 – March 2021
For existing homes, the supply available is around 2.0 months, an all-time low.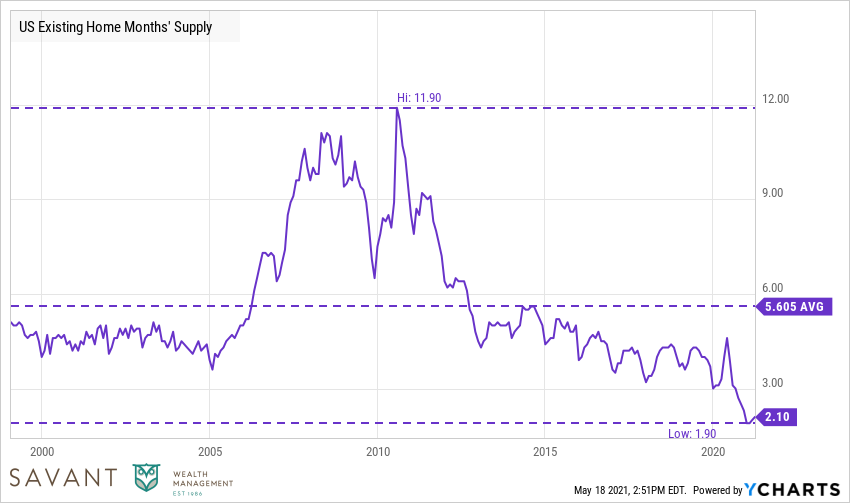 Source: Ycharts, March 1999 – March 2021
According to Redfin, a national real estate brokerage, other key housing market takeaways for 400+ U.S. metro areas during the four-week period ending May 2 include:
58% of newly-listed homes accepted an offer within two weeks, up from 34% over the same period a year earlier. The previous all-time high was 44%.
Asking prices of newly-listed homes hit a new high of $353,000, up 18% from the same period a year ago and 7% since the start of this year.
Active listings (the number of homes listed for sale at any point during the period) fell 54% from 2020 to a new all-time low.
The average sale-to-list price ratio, which measures how close homes are selling to their asking prices, increased to 101.4%, 2.7 percentage points higher than a year earlier and another all-time high.
63% of Americans who purchased a home last year made an offer without ever seeing the property.
As the saying goes, the chickens are coming home to roost. Favorable demographic trends, low mortgage rates, and a renewed appreciation for the importance of homes are major factors driving the housing market. But the biggest factor is likely the lack of home building that has taken place since 2008.
The shock of the Great Financial Crisis was followed by a decade of underbuilding and rock bottom inventory that is driving home prices higher today. From 1950 to 2009, more than 20 million homes per decade were built in the United States. Since 2010, only six million homes have been built.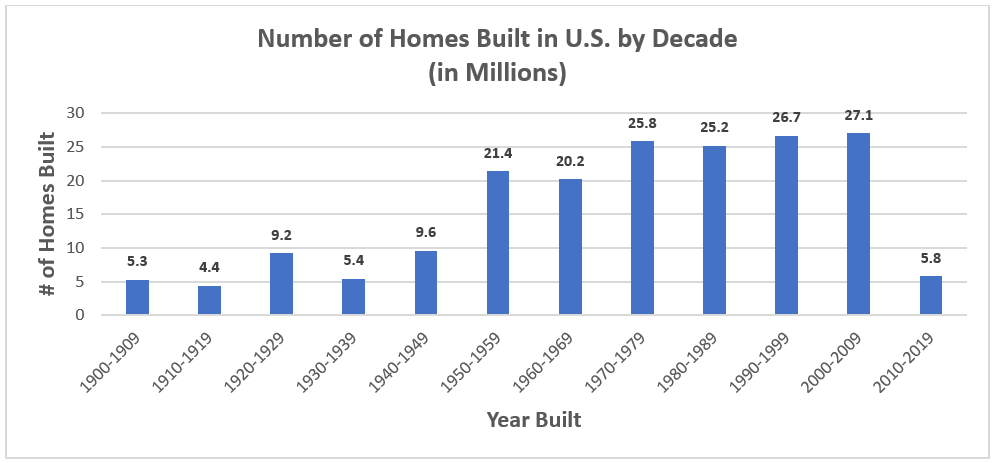 Source: Statista
Population growth is another important part of the story. In 2010, 310 million people lived in the United States, and today the population is about 330 million. Over the last 10 years, U.S. population has increased by 20 million and we haven't built enough houses to keep up.
Stories from real estate agents on the ground are even more interesting.
According to Redfin, the average listing in Dallas is getting more than 30 offers from prospective buyers. In Salt Lake City, the waitlist to buy a new construction home is 90 buyers deep. In Austin, the lines to tour homes have gotten so long that buyers are bringing lawn chairs.
A red-hot housing market is likely to invoke memories of 2008 and a past housing bubble.
The major distinction between then and now is that in 2008, anybody could get a house and, in some cases, multiple houses. Today, we have a shortage of homes, which provides a sturdy foundation.
This is not to suggest that home prices will continue to appreciate at a torrid pace; that seems completely unrealistic. It's more likely that the supply of homes will increase over the next decade while home price appreciation reverts to historical levels.
Toll Brothers, one of the largest public homebuilders in the United States, is building more houses and seeing a strong housing market sustained on the backs of millennials for years to come. In their own words, "Our business focused on millennials is the fastest-growing and best-performing part of our business. More than 70 million millennials are in the process of transitioning to homeownership. In our recent quarter, approximately 25% of our customers were first-time buyers. That 30-year-old first-time buyer is absolutely out in the market right now."
The millennial cohort that was previously renting is becoming a legion of homeowners. In the process, they are giving builders the confidence to build more homes.
The shelves are being re-stocked as we speak.