The Mystery of the Labor Market
More than 10 million jobs are open in the U.S. right now, more than at any time in history.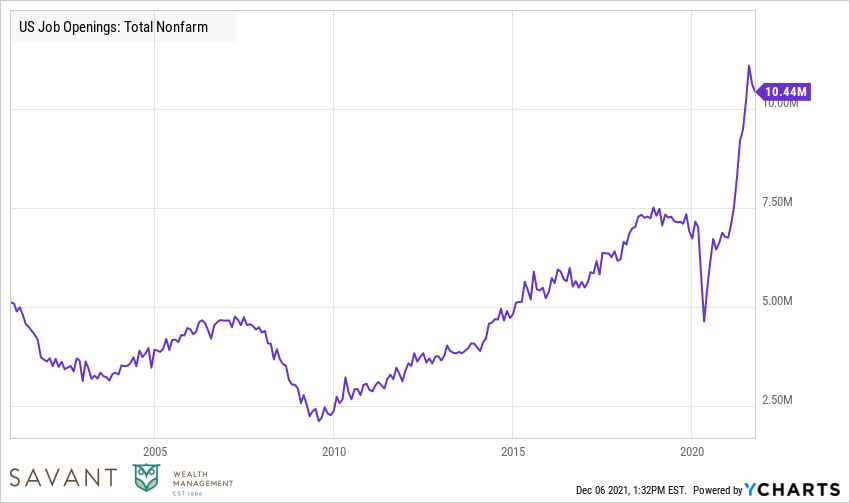 Source: Ycharts. Time period: Nov. 2000 – Nov. 2021
Yet the unemployment rate is higher than it was pre-pandemic.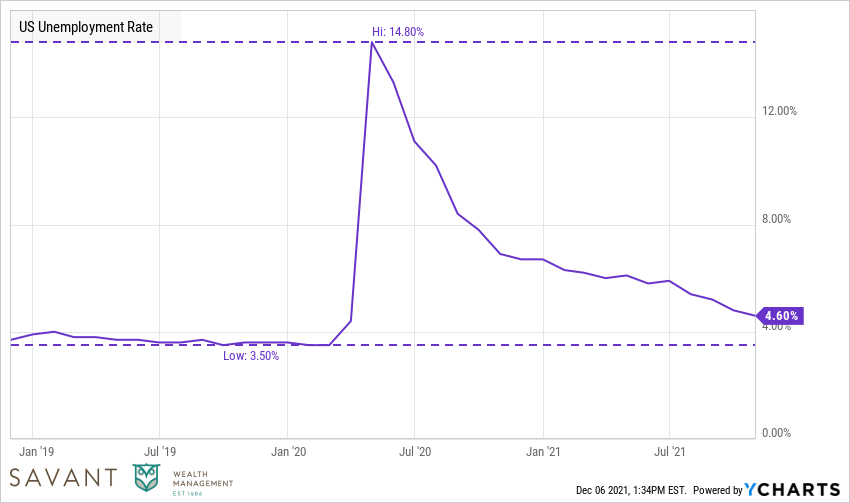 Source: Ycharts. Time Period: Nov. 2018 – Nov. 2021
To use actual numbers, 5.7 million people were without jobs in February 2020 and nearly 7.5 million people remain unemployed today.
It's not exactly a secret the demand for labor is unprecedented; it has been a Page 1 story for most of this year. At a macro level, many of the issues within the supply chain are due to these labor shortages. Anecdotally, you can walk into many service establishments where a stack of job applications sits on a table with the promise of a same-day interview.
In certain parts of the country, Chipotle is offering upwards of $20 an hour with incentives that include 100% tuition reimbursement to accredited universities after only 120 days of employment. They're also offering free food, which one could argue is the greatest benefit of all.
In short, the premium on labor, particularly in service sectors, is one of the more interesting outcomes of the pandemic. Because many people aren't in a hurry to return to work, employers are competing hard to change their minds.
However, the obvious question is, "Why are there so many job openings?"
In a recent podcast episode of Odd Lots, Thomas Lubik, senior advisor in the Research Department at the Federal Reserve Bank of Richmond, presented a few ideas:
"There is not one clear explanation, unfortunately. It's a variety of things. You could point to excess savings, a labor versus skills mismatch, the extra benefits from unemployment insurance, maybe it's a lack of childcare options for working parents, or possibly potential concerns around going into an office and being at risk of COVID-19."
Many theories abound, which isn't a surprise. Matters related to the economy are similar to algebra equations. If you shift a variable on one side of the equals sign, one or more variables on the other side will move with it.
While economic theory is one thing, actual observations from companies attempting to hire employees tends to be more useful.
Kurt Alexander, the CFO of Omni Hotels, talked about labor issues his company is experiencing as it tries to attract workers to the service industry:
"The pandemic magnified and accentuated trends that were already going on. Pre-COVID, we had about 22,000 employees working for us. In about sixty days, from February to April of 2020, we got down to about 1,800 employees. These included restaurant employees – chefs, servers, dishwashers – housekeepers, and front of hotel staff. A lot of these jobs required hard, manual work. And as we try to get employees back, it's clear the supply of labor just isn't there."
He went on to add, "It feels like we're running our own science lab. We're experimenting with all sorts of stuff to attract and retain labor. Certainly, higher wages are the first lever we pull, but that's not enough. For culinary staff, we've given out knives' sets. For other staff, we're giving free stays at our hotels. We're looking into what we can do around student loans. We're constantly tinkering to see what works."
For a variety of reasons, most of the 10 million open jobs may never be filled. The labor force has shrunk by more than three million people since the onset of the pandemic.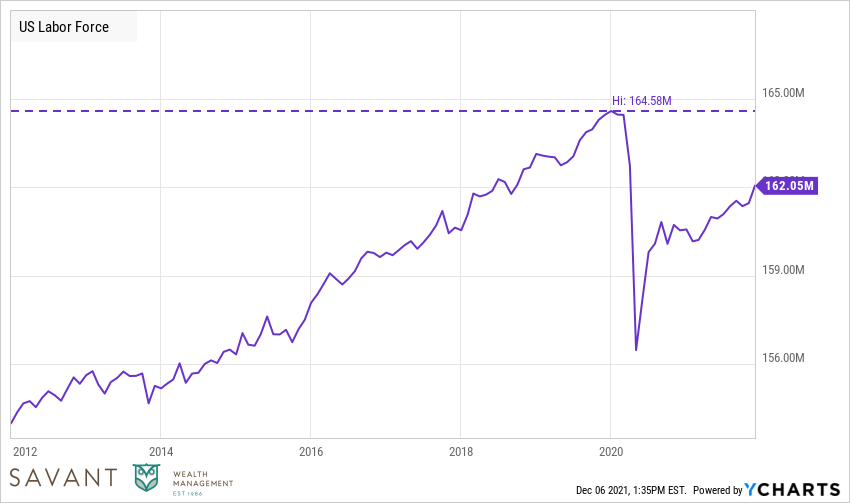 Source: Ycharts. Time Period: Nov. 2011 – Nov. 2021

It's quite possible many of those who left the labor force will never come back. Retirements spiked during the pandemic; roughly two million more people than expected joined the ranks of the retired during the pandemic.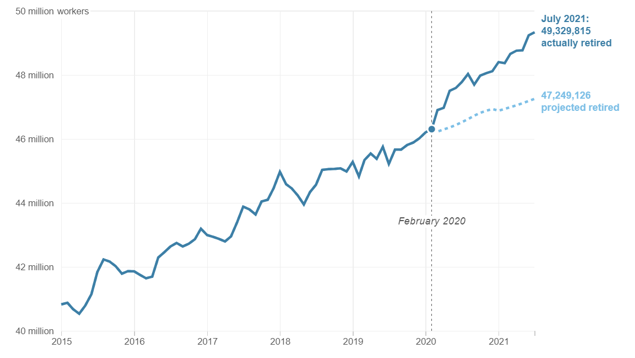 Source: Current Population Survey data from the U.S. Census Bureau and Bureau of Labor Statistics. Extracted from IPUMS-CPS, University of Minnesota. Time Period: Jan 2015 – Oct. 2021
It's not exactly clear what will solve this labor shortage. The circumstances differ by each individual situation. In cases of a skills mismatch, some people have used the pandemic to go back to school or receive training in a specialized field. It will take time for them to return to the labor force. With COVID cases spiking in certain states, we may have to wait for cases to decline before people come back to work. In cases of unemployment benefits and higher savings, we're getting further away from the period of government stimulus and seeing evidence of savings declining. That group may consider returning to the workforce sooner.
Like most things, the only simple answer is time. After enough time has passed, the labor shortage should correct itself. But what happens between now and then is a bit of a mystery.