The Shelves Might be Empty for Christmas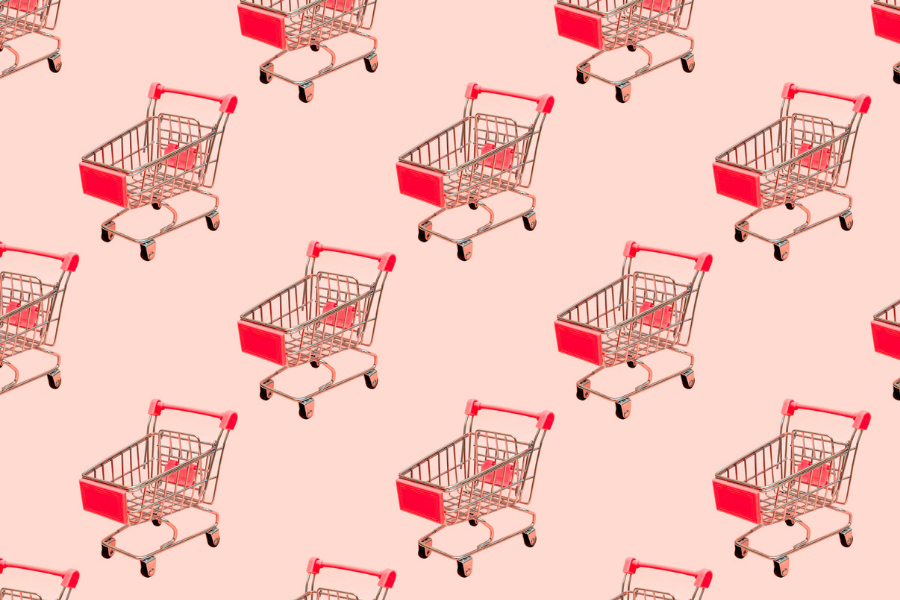 The global supply chain is like Christmas morning in a house full of young children – a giant, chaotic mess.
To set the stage, "supply chain" generally refers to the entire cycle for a product to go from factory floor to store shelf. In between those two places, there are container ships traveling across oceans, ports for unloading, warehouses for storing, trucks, planes and railroads for shipping, and more warehouses for storing. And there are people – lots of them!
The current problems start with container ships, which carry more than 90% of the world's traded goods. At this very moment, more than 70 ships are lined up outside the Los Angeles/Long Beach port waiting to unload. The issue is like running behind a bad offensive line – there's just nowhere to go.
The waiting game looks something like this, with big freighter ships stacked up, idly floating and waiting for other ships to unload.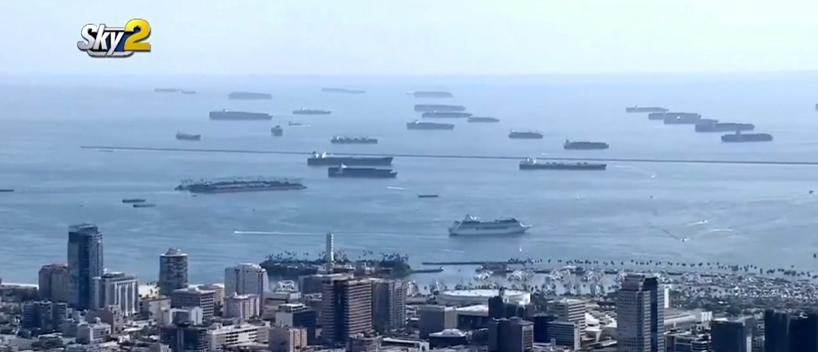 Source: CBS Los Angeles
Port officials estimate there could be as many as half of a million shipping containers on the ships waiting to enter the port. And that's only in southern California.
A recent JPMorgan report included several visuals that illustrate the extent of the problem. Shipping a 40-foot container from Shanghai to Los Angeles costs more than $12,000, a hefty increase from roughly $1,700 at the beginning of 2020.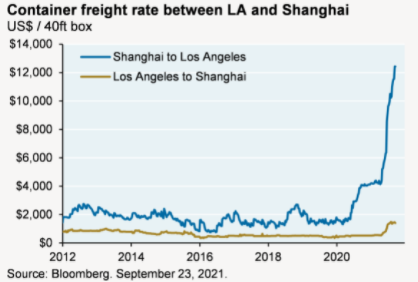 However, the rates from Los Angeles back to Shanghai have remained fairly consistent.
This has created an odd incentive problem. Empty cargo ships are returning to China, not wasting any time reloading in Los Angeles, to accelerate the process of returning to Los Angeles with more freight.
The number of empty containers traveling back to China from Los Angeles has surged since early last year.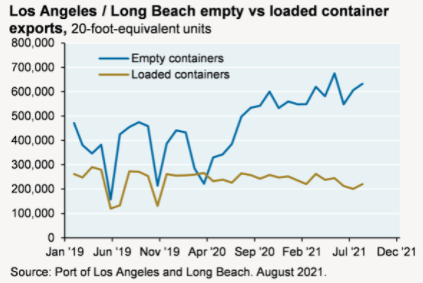 This further exacerbates the supply chain problem because many U.S. goods (grains, chemicals, industrial parts) that were supposed to depart our railcars and warehouses to head overseas are sitting idle, occupying valuable space needed to move imports to the interior of the U.S.
Gene Seroka, director of the Port of Los Angeles, summarized the problem. "There are congestion points everywhere. Ten lanes of traffic has been stuffed into five. We're breaking records every month; we passed 1 million container units unloaded in a single month (in July) becoming the first port to ever do so. Plenty of cargo is still coming through but it's jammed up. The warehouses are full – there's two billion square feet of warehousing from the Pacific Ocean to the Mojave Desert and all of it's overflowing. The next ship that comes in can only unload so much cargo at a time."
The ports of Los Angeles and Long Beach represent approximately 40% of the imports into the U.S. The problems there are happening everywhere.
At the same time, important parts of the supply chain – the ones requiring human labor – have been severely impacted by COVID-19. Unloading cargo ships requires many workers. In pandemic times, the port's workforce is limited and slows down the unloading process. Warehouse workers usually pack and sort in teams. With social distancing rules, many warehouses are operating with reduced workforces while handling the most product in history.
And the icing on the cake is the truck driver shortage. The California Trucking Association has attributed this shortage to pandemic-related benefits reducing the supply of available drivers. Another factor within the job market is competition with e-commerce: former truck drivers now have the option to make local deliveries in a van, which generally gets them home in time for dinner, a major benefit versus long-haul trucking.
In summary, demand for imported consumer goods continues to surge due to pandemic work-from-home trends and other home improvement spending, while at the same time, there are significantly fewer workers required to maintain and operate these supply chains.
What's also apparent is these supply disruptions are a large contributor to inflation. Big retailers like Walmart, Costco, and Target have taken drastic measures to charter their own cargo ships to import goods from China. In doing so, they are paying roughly $100,000 per day, or four times more than they were paying to ship freight last year. These costs are being passed on in the form of higher prices at the stores. These companies estimate this problem could persist for the foreseeable future, perhaps into 2023.
Unfortunately, there's no quick fix. The supply chain is currently on the operating table, and the situation is critical but stable. Everything will work out, but it will take a combination of medicine and observation.
In the meantime, look forward to the holiday season, but it might make sense to buy your gifts early.