Evidence-Based Investing Works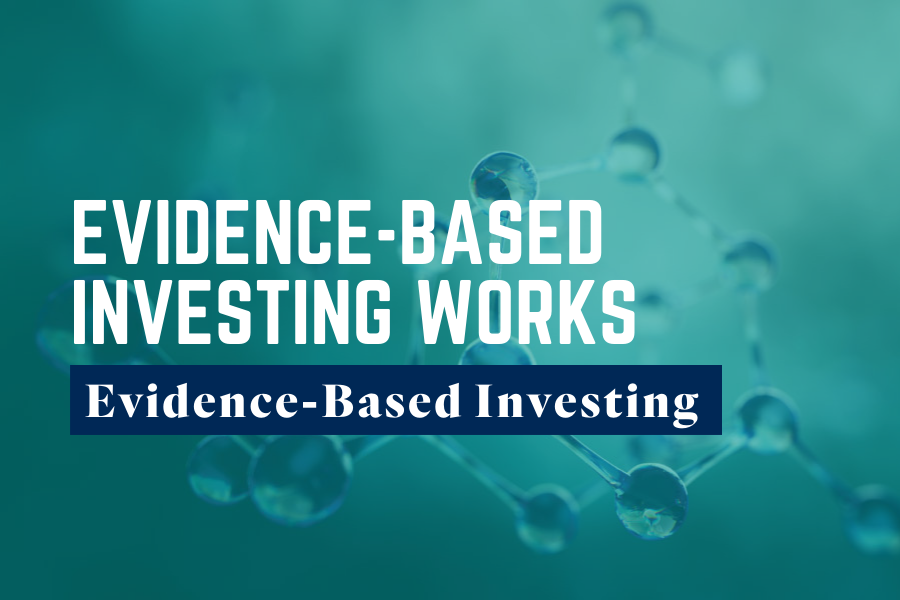 The Proof Is Clear for This Investment Approach
We've devoted considerable time to explaining evidence-based investing (EBI) because we have conviction that this approach helps provide our clients the greatest odds of achieving their ideal futures.
Thank you for joining us on this journey that started with the publication of our whitepaper, "Evidence-Based Investing: A Scientific Framework for the Art of Investing."
Evidence is literally the name of the game here, and in this final blog of the series, we'll offer a summary of our analysis and how evidence-based investing will continue to evolve.
In Summary
At the center of the EBI approach is the success of you, the investor. The evidence-based strategy we use for investing applies similar principles as those practiced in the field of medicine.
Our whitepaper contains many supporting statements, case studies, and data to bolster our methods while also identifying what doesn't work. Those less successful strategies include:
Market timing
Active stock-picking
Persistence of past performance
Consider another important question related to the power of diversification (a common theme throughout this EBI journey).
Question: Can broadly diversified portfolios improve long-term returns and reduce risk?
Answer: From our standpoint, a broadly diversified portfolio is a better mousetrap for long-term investors than conventional approaches. Depending on individual goals and risk tolerance, this approach can result in various mixes of stocks, bonds, and alternative asset classes. A portfolio that seeks diversification both across and within asset classes has the potential to be more resilient across a variety of market environments.
Evidence: The evidence we show supports the success and strengths of a systematic, rules-based approach to investment management. The hypothetical illustration below highlights the difference in growth of wealth between a Simple 70/30 Index Portfolio and a Broadly Diversified 70/30 Index Portfolio over a nearly 50-year period.
Relationships and Results
At the heart of any successful investment strategy is the relationship between client and advisor. This is no less true with evidence-based investing, which continues to evolve.
Here's a quick refresher on our four key diversification strategies:
Enhance bond diversification.
Harness global stock opportunities.
Tilt towards compensated factors.
Alleviate risks through select alternative investments.
Armed with evidence and logic, we believe investors can be confident that EBI will work for them for many years to come.
For more information, download our EBI whitepaper or consult with your financial advisor.