This Week's Market Mantra: Keep Calm and Carry On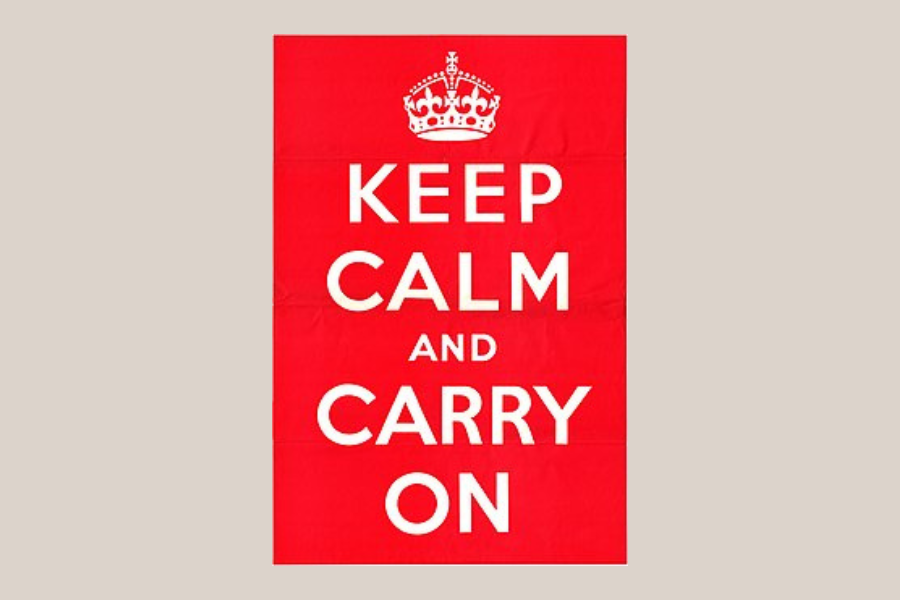 According to popular culture, Friday the 13th is usually the day we're supposed to feel nervous or superstitious. But maybe that's just because we hadn't met Tuesday the 13th yet. On Tuesday, Sept. 13, the horror show masquerading as Wall Street decided to treat us to another scary roller coaster ride, with the Dow down nearly 1,300 points, or 4%, the S&P 500 down 4.3%, and the NASDAQ down more than 5%. It was another harsh reaction to news about inflation – specifically, that consumer prices went up unexpectedly in August.
How do we stay on course when the economy appears to be in freefall? Perhaps we can borrow a slogan that our neighbors across the pond invented just before World War II. The British, known for having a "stiff upper lip" in the face of adversity, simply tell themselves to "KEEP CALM AND CARRY ON." And while the saying seems particularly appropriate now, you might be surprised to learn that it originated more than 80 years ago.
As the story goes, the phrase, "KEEP CALM AND CARRY ON" was part of a campaign by the British government's shadowy Ministry of Information (later the inspiration for George Orwell's Ministry of Truth in the novel, 1984) to boost the public's morale as the second World War began. According to the U.K. government, people were still wary from World War I, and the British government wanted to keep the public motivated during the war effort. The Ministry created a series of posters to be displayed all over the country – at bus stops, train stations, in shop windows and on public message boards. All the posters contained an image of the crown, bright colors, and messages in large, capital letters. One poster read, "FREEDOM IS IN PERIL – DEFEND IT WITH ALL YOUR MIGHT." A second poster encouraged British citizens to think positive thoughts, stating, "YOUR COURAGE, YOUR CHEERFULNESS, YOUR RESOLUTION WILL BRING US VICTORY."
Although "KEEP CALM AND CARRY ON" wound up being the most popular poster of the three, the Ministry actually held it in reserve to publish in case a new attack or catastrophe rendered spirits lower. According to the University of London, very few "KEEP CALM" posters were circulated, and only a very small number of originals exist today. That's because while the government printed nearly 2.5 million of the posters, it wound up recycling them in 1940 when the country faced a severe paper shortage.
Approximately 60 years later, someone discovered one of the posters in a Northumberland book store, and a year later, reproductions of the poster started circulating, leading to its modern-day popularity. And now, as the world faces the effects of COVID-19, supply chain issues, inflation, the war in Ukraine, frequent market volatility, and even the recent death of Queen Elizabeth II, "KEEP CALM AND CARRY ON" still seems like an appropriate mantra for our times.
So, as the Federal Open Markets Committee prepares to meet next week to possibly impose a "mega" rate hike, let's focus instead on our financial and life goals, maintain a long-term view, and resist the urge to give in to our emotions. In short, let's keep calm and carry on. Our courage, cheerfulness, and resolution will bring us victory.